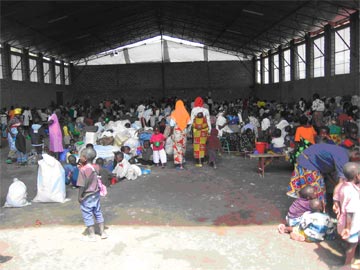 The Community of Sant'Egidio of Goma regularly visits the refugees of the recent conflict in North Kivu. This is the latest report on the dramatic situation in the refugee camps:
The humanitarian situation in the North Kivu and particularly around the town of Goma is still very critical.
There are in Goma six refugee camps with more than 100,000 families (nearly half million persons). But after the war campaign of August more than 250,000 persons are estimated to be moving in the North Kivu.
Since this is a minimum estimation, and considering that in the zones controlled by the rebels there are other camps whose number and width are not possible to know exactly, it is likely that the number of refugees exceeds one million.
More refugees are still arriving: people that fled from homes and was lost in the forest.
In the camp of Kanyaruchinya (in Goma) there are at present more than 5,000 families (about 25,000 persons according to the estimate of the UNHCR). Some large tents accommodate about fifty families each, in great promiscuity. But most people only have even worse shelter. Drinking water and food are laking. The hygienic conditions are awful and some people have already died for the spreading of cholera.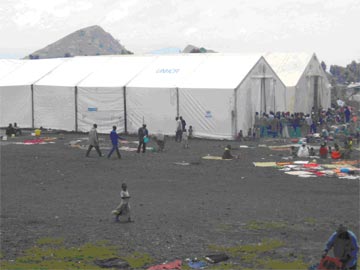 Every night shots are heard around the camps, and and there is fear because the governmental soldiers plunder and steal in the fields that should protect.
The camp of Kiwanja (outside the town) was evacuated after the massacre of the population that had remained in the village; there are rumors of more than 200 young people killed, and till now no one knows where the residents of that camps have gone.
In the "Don Bosco" camp a part of the refugees spend the night in the open air, often under the rain. Meals are also prepared outdoors, due to the scarcity of tents. A large hall has been prepared to welcome at least the children and the elderly.
There have been massacres and people is frightened. Downtown Goma life goes on as usual, but someway like in a "slow-motion camera" awaiting the events. A reprise of hostilities is feared by every moment, since the two belligerent (the government and the rebels of Nkunda) have not yet decided to come to negotiations table.



Many live in arranged shelters


A woman just arrived from the forest after
one week walk from Kiwanja to Goma (72 km)

Children don't know where to go and spend
the day among the volcanic stones



Women go to seek the firewood
WE ADDRESS AN APPEAL TO ALL FOR SENDING
EMERGENCY RELIEF IN THE NORTH KIVU
or
post office account no. 807040 (in Italy)
Comunità di S.Egidio-ACAP Onlus
IBAN: IT67D0760103200000000807040