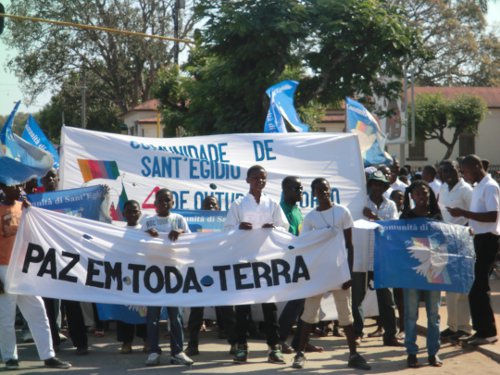 On 4th October in Mozambique people celebrated 19 years of peace. It is an important date, and the Community underlined this by organizing marches for peace in more than 100 places, including the main cities of the Country.
Besides these, there were hundreds of initiatives to talk to the younger generations in schools and universities- who fortunately never experienced the horror of war - about the value of peace and the history of the peace process.

It is important indeed to stress the importance of peace in a society where you can easily notice a relevant increase in violence.

For this reason the Community of Sant'Egidio insists on topics such as non-violence and respect for life, more particularly in response to some problems emerging from the Mozambique society: the frequent recourse to lynching as a solution for criminality; the despise for elderly people, who are often considered as witches; the increasing tendency to hunt beggars from the city centre streets, in name of the "urban décor". Finally, the scorn for the high number of refugees who arrived in Mozambique during the past few months, coming mostly from Ethiopia and Somalia after long and dangerous journeys.
Celebrating 19 years of peace means indeed to proceed with the construction of a peaceful society able to welcome especially the weakest.
The invitation to participate to the meetings and marches was accepted with enthusiasm by young students and the voice of the Community of Sant'Egidio, broadcast by local radios and televisions, was recognized as a voice of peace. 19 years of peace are a responsibility to construct a more humane society for all, and they are a heritage which the Community of Sant'Egidio wishes to share with younger generations.


| | |
| --- | --- |
| | |
| Beira | Lichinga |
| | |
| Maputo | Nampula |
The Community of Sant'Egidio and the peace ►