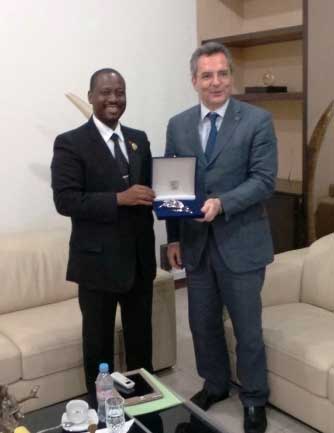 Peace, dialogue between religions, the neglect of the elderly and solidarity to the communities hit by the tragic road accident of M'batto that caused the death of nine youths and the injuring of others were the central subjects of the first day of Marco Impagliazzo's visit in Côte d' Ivoire.
The delegation of the Community of Sant'Egidio some institutional authorities including President Guillaume Soro, the Vice-Presidents of the National Assembly and Prime Minister Kablan Duncan. Soro and Duncan thanked the community for the role of pacification developed during the ten years (2002-2011) of political crisis, high instability and civil war in the country.
In turn, Marco Impagliazzo thanked the Ivorian government for the prompt support of the injured of the accident of M'Batto, who are now recovered after their hospitalisation. (Watch the video)

The last of the injured, Felix, was visited in hospital (picture).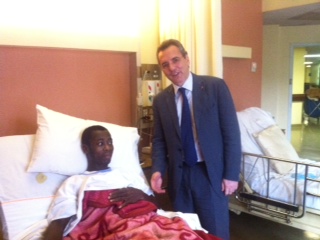 The issue of the condition of the elderly, many of whom live in loneliness and neglect in the big cities of the country, was also addressed. The Community of Sant'Egidio intends to build small "Family Homes" for the elderly living alone, with the support of the youth.
A significant meeting was held in the house of the Community with some imams with whom, during the political crisis, a network of dialogue was built that managed to contain violence in some neighborhoods of the city. The imams themselves are on the side of the community in the realisation of the Cities for Life Day and for a culture of life that opposes lynchings.