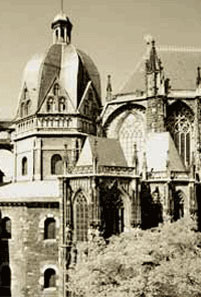 The international Charlemagne prize 2009 is bestowed on Andrea Riccardi and on the Community of Sant'Egidio. The May 21 ceremony of awarding is held in the Crowning Hall of the Town Hall of Aachen. Some events and meetings accompany the ceremony.

The most prestigious German prize, the "Karlspreis" (Charlemagne), one of the most important European prizes, assigned in the past to statesmen and "great Europeans", among whom Alcide De Gasperi, Konrad Adenauer, Javier Solana, Carlo Azeglio Ciampi, John Paul II and last year to the German chancellor Angela Merkel, is tributed in its fiftieth edition to the founder of the Community of Sant'Egidio.

In the justification for the assignment of the prize one can read among other things: "For his extraordinary civil engagement in favor of an Europe more human and solidal within and outside its boundaries, for the simpathy among peoples, faiths and cultures, for a more peaceful and just world. He lives the Europe of values".

The president of the Community of Sant'Egidio, prof. Marco Impagliazzo, at the news of the awarding of the Charlemagne Prize 2009 declared:

"It is a great honor and a happy surprise that this prestigious prize has been bestowed on Andrea Riccardi and the Community of Sant'Egidio. It is a prize that strengthens the work of the Community for dialogue among cultures and different faiths and that encourages the daily work of thousands of members that commit themselves to peace, for a society of living together and not of the clash and to bring closer Europe and Africa".


PROGRAM of the events for bestowing of the Prize
In the framework of the ceremonies for bestowing of the Charlemagne Prize the following events will take place:

20 May 2009
Bonn, 10.00 am Gobelin Hall, Bonn Town Hall
Conference: "Africa without AIDS. Just a dream? The DREAM programme, a model for Africa"
Aachen, 3.00 pm Fo 4, Kármán-Auditorium, Eilfschornsteinstr.
Meeting of students with Andrea Riccardi.
Aachen, 6.45 pm, Domsingschule Hall, Ritter-Chorus-Str. 1-4
Round table discussion on the issue: "The Civilization of Peace, Faiths and Cultures in dialogue"

Participants

Rabbi David Brodman, Chief rabbi of Savyon, Israel

Prof. Mohammed Amine Smaili, University of Rabat, Morocco

Mgr. Heinrich Mussinghoff, bishop of Aachen

Nikolaus Schneider, President of the evangelical Church of Renania

Archbishop Serafim, metropolitan of the Romanian Orthodox Church for Germany and Central Europe
Chairing: Prof. Jean-Dominique Durand, University of Lyon, France

Aachen, 8.15 pm, St. Foillan church, close to the Cathedral
Prayer for peace with the Community of Sant'Egidio
21 May 2009
9 am, Cathedral of Aachen, High Eucharistic Liturgy on the Ascension Day
11.15 am , Crowning Hall of the Town Hall of Aachen, Ceremony of bestowing of the Charlemagne Prize 2009 on Andrea Riccardi, in the presence of many european civil and religious authorities