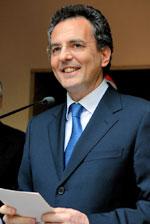 University for Foreigners of Perugia, President of the Community of Sant'Egidio
Sono molto lieto di portare in questa assemblea senza confini, che riunisce cristiani delle maggiori Chiese e Comunità ecclesiali, il saluto e il ringraziamento della Comunità di Sant'Egidio, una Comunità di laici che vive l'amore per i poveri, per la pace e per la Parola di Dio in più di 70 paesi del mondo. È un saluto di benvenuto a tutti coloro che dalla Polonia e da tanti paesi europei, dell'Africa, delle Americhe e dell'Asia sono qui a Cracovia per pregare insieme per la pace. È un ringraziamento all'Arcidiocesi di Cracovia e al suo cardinale, il carissimo mons. Stanislaw Dziwisz, che hanno voluto che quest'anno lo Spirito di Assisi giungesse qui a Cracovia, in questa splendida e storica città dove tutto parla della memoria del servo di Dio, l'amatissimo Papa Giovanni Paolo II. Senza di lui, senza la sua profezia, senza la sua iniziativa oggi non saremmo qui, il cammino della pace, del dialogo e dell'unità dei cristiani e degli uomini e delle donne delle grandi religioni mondiali, non sarebbe a un livello così profondo. Siamo qui, come Comunità di Sant'Egidio, per dire, ancora una volta, grazie a Giovanni Paolo II che in quel lontano ottobre 1986 chiamò ad Assisi le religioni a pregare per la pace. Grazie di averci coinvolti in quest'avventura umana e spirituale del dialogo tra le religioni e dell'impegno per la pace a partire dalla nostra fede cristiana. Quel giorno ad Assisi il Papa disse: "la pace è un cantiere aperto a tutti". La Comunità di Sant'Egidio, il suo fondatore Prof. Andrea Riccardi, risposero che volevamo lavorare in questo straordinario cantiere. Oggi il mondo è più in pace di ieri, è meno diviso, soprattutto in questa parte d'Europa. L'Africa ha visto la pace crescere in tante sue parti. C'era bisogno dello Spirito di Assisi! C'era bisogno di continuare quella giornata di pace, c'era bisogno di lavorare in quel cantiere. Con la nostra forza debole, ma forza della fede, ci siamo messi a lavorare in questo cantiere. Con tanti amici, molti sono qui oggi e li ringrazio, che si sono uniti in questo lavoro.

Oggi qui a Cracovia ringraziamo il Signore in questa bellissima liturgia ecumenica, in questo santuario della Divina Misericordia, circondati da migliaia di fratelli e sorelle polacchi e da ogni parte d'Europa e del mondo, per questa storia in cui lo Spirito di Assisi ha soffiato per ventitré anni, portando tante grandi novità nella storia del mondo. Grazie Giovanni Paolo II, che hai ispirato tutto questo, grazie Chiesa di Cracovia che ci accogli, grazie sorelle e fratelli di tante Chiese e Comunità cristiane per la comune preghiera al Signore della pace e della misericordia.