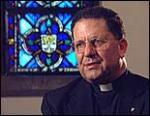 Latin-rite Archbishop of Baghdad. Born in Lebanon in 1946, from a Maronite family, he has been living in Baghdad since 2001.
Discalced Carmelite, he completed his theological and social sciences studies at the Catholic Institute of Paris.
He received sacerdotal ordinance in 1973. He taught Social Sciences at the Jesuit University of Beirut and social and cultural anthropology at the Teresianum of Rome.
General Definitor of the Order of Carmelites from 1991 to 2003, He is Secretary of the Episcopal Conference of Iraq and President of Caritas Iraq.