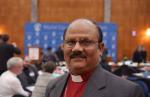 Nato in Pakistan nel 1949, ha studiato a Karachi e al Trinity Teological College di Singapore.
Nel 1989 è stato nominato vescovo di Raiwind.
È stato chiamato più volte a rappresentare i cristiani pakistani nelle organizzazioni nazionali e internazionali ecumeniche come il World Council of Churhes (WCC) e la Christian Conference of Asia (CCA).
Numerosi sono i suoi scritti che hanno come oggetto la pace e i diritti dei minori in Pakistan.
Attualmente la sua attenzione è rivolta al dialogo tra le religioni.
È vice-presidente anziano del World Council of Religions (WCR), organizzazione pakistana fondata dall'ex presidente Musharaff.