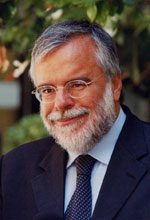 Historian, Founder of the Community of Sant'Egidio
Distinguished Representatives of the Christian Churches and Great World Religions,
dear friends,
we have come to the end of three days of dialogue, friendship and prayer, here in Cyprus. We are people with different stories, who belong to different religions and cultures. We are witnesses of the spiritual and human richness of our world, a treasure that has been humiliated and forgotten for too long, an asset that has been scarcely appreciated in the construction of the world.
Today, as we face a huge economic crisis, whose consequences cannot be foreseen, we believe we can say that the economy and finance are not all we have. So much has been neglected, the realms of humanity and of the spirit. There is truly too much poverty. The wealth of the few has been built by allowing the sorrow of the many to grow. Too many wars are still fought. Violence always worsens the human condition. Too many people suffer while adequate efforts are not made, and the available resources are not used to solve their state of distress.
I think of Cyprus, this land where we wish that justice and peace were restored. And as I say this, I thank the people of Cyprus for their warm hospitality, and especially His Beatitude Chrysostomos II, who wished for this meeting and generously supported it with his efforts. I thank the President, Mr Dimitris Christofias, and the Government of the Republic of Cyprus. May this prayer for peace mark the beginning of a new era for Cyprus, this beautiful and wounded land, the last piece of occupied Europe.
May a new wind of peace blow on nearby Middle East, on Iraq, on suffering Africa. Conflicts cannot be left gangrenous for decades. We need courageous and generous choices of peace!
The wind of peace is a gift of God. But men, women, peoples do have a great responsibility: there is much they can do. It is what we learnt in Cyprus, during these days that were a school of peace and dialogue. The medicine of dialogue can heal conflicts. Dialogue does not require war and violence, but listening and talking. Dialogue reveals that the use of force and war is not inevitable. Dialogue does not leave defenceless, rather it protects. It does not cause weakness, rather it grants new strength. It transforms strangers and enemies into members of one's own family. It delivers from the demon of violence. Nothing is lost with dialogue; anything can be achieved through dialogue.
Religions are called to the daunting task of making a spirit of peace grow among human beings. It is the spirit of Assisi, initiated by John Paul II, and blowing since 1986. In the spirit of Assisi, John Paul II still walks with us. That same spirit blew in Naples last year, we experienced it here, and it will accompany us next year to Krakow and to Auschwitz. For we cannot surrender a gift of God.
We need this spirit of humanity, this spirit of dialogue. It is not something too simple, too naïve, too miserable, against the complex machinery of economy and the mechanisms of politics, which in many parts of the world are worn out. What is missing is the essential simplicity of being authentic, of being human, brothers and sisters, peaceful men and women. It is what John Chrysostom said: "be simple with intelligence". With the simplicity of pilgrims of peace that dream of a new world, free from war and violence, we continue on our path, in our everyday lives, strengthened by these wonderful and moving days of encounter in Cyprus.