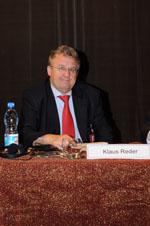 University of Würzburg, Community of Sant'Egidio, Germany
Eminenze, Eccelenze, egregio Signor vescovo Genn ed egregio vescovo Bode, Beatitudini, signore e signori, cari amici!

Nel nome della comunità di Sant'Egidio vorrei ringraziare Lei, Signor vescovo Genn, per la Sua accoglienza nel duomo di San Paolo a Münster. Saluto di cuore tutti i presenti ed anche i rappresentanti delle diverse chiese e comunità cristiane.

31 anni fa iniziò una strada di dialogo e d'incontro ad Assisi che ora arriva per la terza volta in Germania, a Münster e Osnabrück, le città della pace di Westfalia. Proprio qui nel cuore d'Europa ci sembra importante di lanciare un messaggio insistente al mondo: bisogna fare di più – e con più decisione – contro la violenza e per la pace. Come dice il titolo di questo incontro di pace vorremmo a partire di questi giorni incamminarci con più coraggio su "Strade di pace". Crediamo che la preghiera è alla radice della pace e per questo iniziamo questi giorni di incontri e di dialogo con la preghiera. Il Signore ci ha promesso: "Dove sono due o tre riuniti nel mio nome, lì sono io in mezzo a loro" (Mt 18,20). Allora non siamo mai soli, anche se le nostre strade talvolta sono difficili.
Saluto molto cordialmente tutti gli ospiti e gli amici dai vari paesi europei, dall'Africa, dall'America e dall'Asia che partecipano a questo pellegrinaggio di pace nello spirito di Assisi.
Già oggi ringrazio le chiese di Münster e Osnabrück e i cittadini per la ospitalità meravigliosa e per il vostro grande interesse. Ringraziamo già adesso per la colletta della Liturgia che sarà utilizzata per la costruzione di una casa per i bambini di strada in Costa D´Avorio.

Possiamo in questi giorni accogliere nei nostri cuori il grido di innumerevoli uomini che soffrono della guerra, del terrorismo e della violenza e che chiedono pace. Possa la speranza di pace che sale dal nostro incontro donarli consolazione e forza.