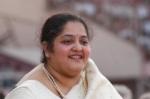 Leader of the Swadhyaya Movement, India
From time immemorial, human beings have been striving for peace on this planet. One's craving for peace is it's self-indicative of development of oneself. In this process of striving for peace, one already starts getting transformed. From religious and philosophical point of view, craving for peace is a necessity that would eventually lead to craving for eternal peace.
Our prayers in Vedic tradition end with; "Aum Shantihi, Shantihi, Shantihi" - we pray and seek for peace in material, spiritual and divine spheres of life. It is apparent that peace is pivotal to life. To avoid external violence, inner stress and emotional disturbances, one strives for outer and inner peace. Our fragmented society is fraught with disparities, disturbances, strife and violence. Perhaps the condition today is worsening rapidly with no quick solution in sight. What factors can be at the roots of this? What can be the cause? Why is it so? This should make us seek answers within and without.
Certain aspects of personal and social life could be the reasons for the current situation.
Distances are lessened physically but in relationship between one another have increased, consequently, Intimacy and friendship in relationships are lacking.
Trust and faith level in the relations have gone down.
One's needs and demands have gone up to a level where the means cannot pace with. There are needs which one really needs and there are some which one is shown & taught. The information media explosion has led to growing sense of scarcity, income and deprivation of material as well as positional goods, one thus is labelled as a "needy" person in society.
Lack of tolerance, kindness, compassion and selflessness all around is making our life disturbing, Violent and unhealthy.
At philosophical level, inability to set the ever increasing wants and desires, results in anger and rage. Exaggerated sense of self-worth – ego or arrogance leads to losing balance and tranquility in personal and interpersonal life, and unrestrained selfishness within limits is necessary and acceptable. Unrestrained selfishness tends to serve one's own purpose even at the cost of others. And all these can be the causes of disturbance, strife and unrest in human society.
Increased incidences of burglaries, dacoity, kidnapping, threats, protests, assaults, riots, murders, etc. are indicative of growing unrest and worsening relations. And this anomie is not just a problem at inter personal level, but it pervades between religions, faith groups, cultural groups, communities and even nations. And that is when, the concerned countries gather together to find solution.
To face and overcome such challenging situation, only rare few think and voice the need for initiating an action based dialogue involving global communities to create an environment for global peace. More than thirty years ago, when Pope John Paul II convened the Assisi meeting, he voiced the need for a universal path toward global peace that goes beyond usual statist or political peace discourse. This call was enthusiastically endorsed by eminent men and women of goodwill around the globe. That spirit has sustained and strengthened because of active involvement of savants and people of faith who continue to remain committed to the understanding that is based on spiritual humanism.
What is significant in the Assisi declaration is that it attempts to look at traditions, cultures and civilisations in the world to find in them ideas which involve the notion of common mankind. It grounded the idea of universality in broad ecumenical terms to demonstrate the compatibility of different faith traditions.
I was not fortunate enough to participate in the get together at Assisi in 1986, but I have heard about it. The congregation at Assisi was the dire need of the hour and I am sure that the mankind would be grateful to H.H Pope John Paul II forever. For me the importance of the meeting in Assisi lies in the fact that it fully recognised distinct spiritual legacies and multicultural totality, and that No One religion or culture is privileged over any other. By bringing these diversities on a single platform, Assisi meeting underlined the need for dialogue between them and among them as more effective way to explore the universal range of human experiences rather than be enveloped within our own traditions and lifeways that often lead to tension between us and the other.
Those who gathered in congregation would have thought that once they met, had a constructive dialogue, sought the antidote to the situation and working in that direction, they would resolve the problem. You and I know today that the situation is not that easily resolved. But what I appreciate is that they did profound thinking, took prompt decisions and made genuine efforts. I come here every year to salute their initiative and efforts.
Since then and even earlier, the wise and the learned, the thinkers and the academicians, the statesmen and the politicians, the religious and the spiritual persons, have been continuously seeking peace resolution to the crises. And I can prophecise that they would continue to do so for all times to come until we diagnose the root problem causing unrest and tension in life.
Meanings associated with the notion of peace are varied. For most secular thinkers, absence of violence and conflict resolution without violence is peace. However, it seems to be a very limited understanding of peace. Surely, absence of violence is welcome and desirable. Various agencies at all levels--political structures, many religious and civil society groups, etc.--have done and are doing commendable work of peaceful conflict management within and across communities. However, time and again, such peace has come unstuck. So far, a durable peace has eluded us, as we have failed to understand the most basic issues plaguing human relations.
I represent a divine global family that is selflessly working in the society since 40s of the last century. We live together as children of one God that indwells in every heart; we work in the society, for the society on the basis of Bhakti - devotion, understood as expression of our gratefulness to God. Once the idea of indwelling presence; nearness of God; and relation with the Divine power is internalized, it is capable of resolving some intractable problems facing humanity. The knowledge and realization that the same God pervades every human heart, enjoins one in a divine relationship with the other by lowering every barrier that separates man from the other. This helps us resolve the problems of relations in human society.
Universe is full of plurals. The problem arises when there is conflict amongst the plurals. This conflict amongst plurals and conflict of loyalties is commonly recognised and resolved either through enforcing the writ of the State or through democratic integration. Where Swadhyaya differs, is in its deinstitutionalisation of conflict-resolution, as it always relies on transformation from within.
On the basis of a philosophy that accepts centrality of divine spirit in human life and the universe, Revered Pandurangshastri Athavale – Rev. Dadaji, my father, over a period of more than seven decades, succeeded in bringing man closer to man in a selfless loving relationship and created an ever growing family – global Swadhyaya family of more than 10 million, of which I am a part.
The Community has been a unique and exemplary group that promotes the idea of Universal unity and makes an effort to bring together everyone to achieve justice, peace and harmony in society. It is my hope and prayer that the spirit of Assisi will continue to contribute significantly in shaping the destiny of humanity.