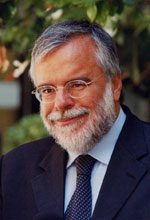 Historian, Founder of the Community of Sant'Egidio
Dear friends,
We have come to the end of these days of encounter, meeting and friendship in the warm and hospitable city of Münster. I wish to warmly thank the bishop of Münster, for his friendly and thoughtful welcoming, and I am grateful to the bishop of Osnabrück, who receives us here today and who has supported us. Without their commitment, it would not have been possible to accomplish this Prayer for Peace in Germany.
In these days, many difficult situations of poverty, violence, conflict, and actual war have been the object of our attention. Some situations present a serious risk of escalating into conflicts. We have recalled stories, sorrows, hopes, from many different parts of the world. Many people, too many, suffer. We need to find new paths of peace. The severe situation of the environment also, and its consequences for the lives of people, were not forgotten.
At times, however, we have felt there were no solutions, or at least that they were not in our hands. What can we do? What can ordinary people do? What can believers do? What can religious leaders do? There are no easy answers to these questions. Often we end up saying that there is little we can do, perhaps nothing! We become hopeless in front of other people's sorrow! We turn into pessimists. We allow ourselves to be indifferent to their pain.
In these days, especially here in Osnabrück, we have prayed for peace, holding before our eyes many situations of sorrow and violence. Prayer forces the limit of the impossible open: it addresses the One who can everything. Prayer is never hopeless. Rather it echoes the pain, sometimes the cry of those who are in the clutches in war. In prayer, in the depth of our faiths, we discover that peace is not impossible, because it is a gift of God. Never be resigned to war! Never be hopeless in front of other people's sorrow! Peace must always be possible. It must always be sought. It will be possible! For this reason, religions kindle a hope of peace – as we do today: they drive believers to get rid of indifference, and compel them to turn into artisans of peace.
We need to gather and act together, as believers. No longer one against the other, or ignoring the other, but one beside the other. John Paul II said so in Assisi in 1986. Never turn religion into a chance for conflict and hatred. One with the other, to make peace grow in the world. Friendship among religions is not rhetorical, and we have experienced it. We have seen how effective it is: in this globalised world, often without a soul, it reveals that all men and all people are bound by one destiny. Peace is the destiny we all share.
Therefore, dear friends, we do not accept that cities and peoples are prey to war and violence. We want to open new paths of peace, through the weak strength of dialogue, but with immense hope: in Europe, concentrated on itself and distracted from the world, in the heart of our religious worlds, wherever people fight each other, wherever violence rules, wherever hatred appears. Religions, in their depth, are paths of peace. With the collaboration of all women and men of good will, more and more, and wherever they are needed, may they open new paths of peace.