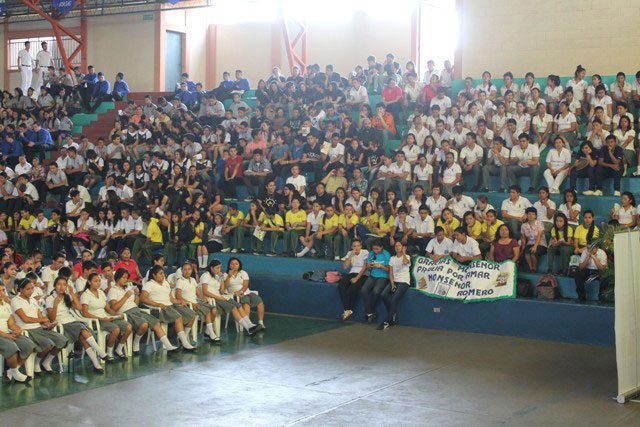 About 1,200 young people gathered in the gymnasium of the Salvadoran High School to listen to the words of Mgr Vincenzo Paglia, postulator of the cause of beatification of Mons. Romero, whose date, 23 May, was solemnly proclaimed these days.
The meeting, organised by the Community of Sant'Egidio of El Salvador, was intended to bring the younger generations closer to the figure of Mons. Romero, this great shepherd whose story is intertwined with that of Salvador, so that they understood the topicality of his dream for the country and his message. The Archbishop of El Salvador, José Luis Escobar Alas, and the apostolic nuncio, Mons. Leon Kalenga Badikebele, were present along with Monsignor Vincenzo Paglia.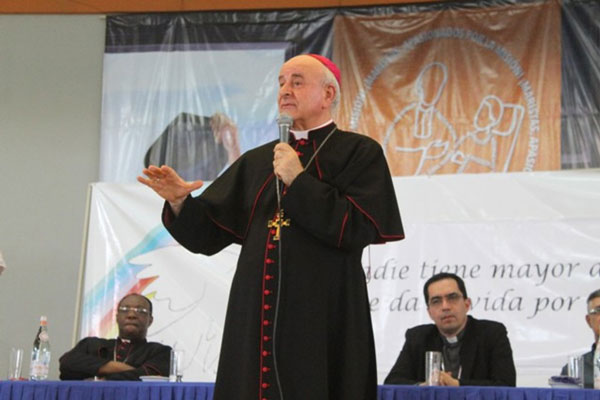 A meeting full of joy and contagious enthusiasm: Mgr. Paglia spoke of the testimony of peace and love for the Gospel of the martyr bishop, of his love for the poor, of his dream for a fairer Salvador, "Romero told us that we must not resign ourselves to a sad and banal life, but dream big, dream of a better society for everyone, where everyone is happy, where one can be together with others".
The Archbishop of El Salvador recalled William Quijano, the young man of Sant'Egidio killed for his commitment to the School of Peace in one of the most violent neighbourhoods in the outskirts of the capital, and exhorted them to gather the testimony.
All these words were welcomed with great enthusiasm and with hope by the youth gathered, who expressed their desire to dream of a better country, as Monsignor Romero wanted it to be.