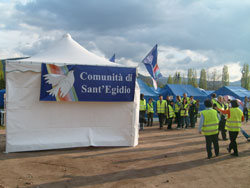 There is one more tent in Piazza d'Armi, since last week: it is the tent of solidarity of the Community of Sant'Egidio. Piazza d'Armi is the larger tent city set up after the earthquake in Abruzzo: about 1,500 persons, that during the day multiply by 3, because it is here that the Civil Protection distributes about 3,500 meals everyday.
It is here that the Community planted its first tent: a listening center for solidarity, for receiving requests of help, to meet the persons more in difficulty, to support, to orientate.
In these weeks, in fact, the groups of the Community of Sant'Egidio - among which many from the Youth for Peace - were constantly present in the struck zones, engaged in a series of visits "tent by tent": personal meetings, close-up, to understand the real needs of those who are in the tent city, to keep record and therefore to help in a punctual way.
Some week after the earthquake, in fact, who could find an alternate accommodation to tents (at home of relatives or other) did so. Those who remained in the tent cities are the persons more in difficulty: among them many elderly, some really remained without anything and also families of immigrants that lived integrated in the villages of Abruzzo: Macedonian and Albanians working in sheep-farming; Philippins, Romanians, Peruvians that for many years have been living and working in our country.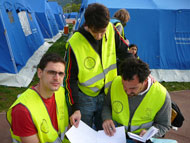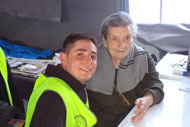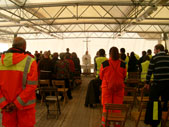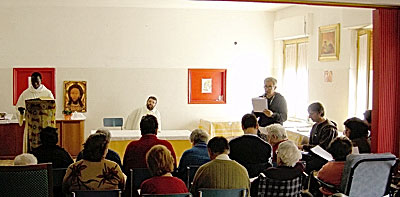 With the elderly at Fontecchio...
On April 25, in the institute of Fontecchio, a village near the most hit zone of Abruzzo, that resisted to many shakes, an Eucharistic liturgy was celebrated. We have prayed for all those that suffer because of the earthquake and for all those that lost their relatives. It has been a moment of great consolation and joy.
... and in Barisciano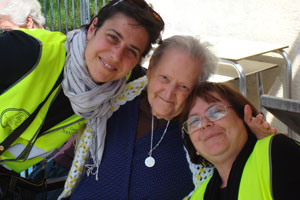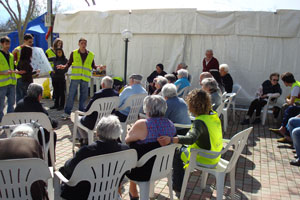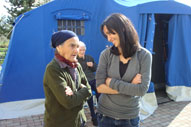 The institute of Barisciano, instead, that was accommodating 48 elderly, is seriously damaged and the elderly now live in some tents planted in the garden. It is not easy to live in a tent at 90 years of age, says Licia. She is very happy now that she receives the visits of the Youth for Peace, that Sunday have organized for them a party.