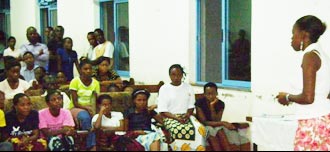 A round of meetings about the Christmas Lunch, its meaning and its message, was held last week in five Tanzanian universities: UDom in Dodoma, Sokoine in Morogoro, SAUT in Mwanza, Ardhi and Mabibo hostel in Dar es Salaam.
In every university the Community spoke of the different Christmas Lunches organised in the Country (eleven of them on 25th and 26th December 2011), as an image of Sant'Egidio's presence in the city, a metaphor of the alliance between humble and poor people.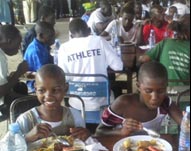 Hundreds of young people attended the conferences, revealing both the religious need and the questions concerning the meaning of life stored in many students' souls.
The opening speeches were followed by numerous questions and remarks expressing both the dissatisfaction for an horizon flattened on materialism, and the ambition to personal and social change.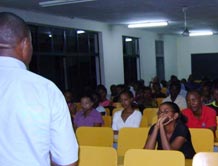 In the chaotic and problematic City of Dar es Salaam – with its constant traffic jams, its working week from Monday to Sunday, with very little time to think – and also in the sometimes uncertain and difficult life of the other Tanzanian cities, many young people expressed their interest for the Gospel proposal delivered by Sant'Egidio. They were affected by the possibility to live the Gospel preaching as an involvement in a free service with the poor, to live in an alternative way to the destiny of many graduates, who immediately after their degree are swallowed up by a frenzied and dehumanized society.

Photos taken during the 2011 Christmas Lunch in Dar es Salaam (Tanzania) >>