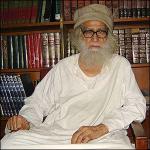 Born in Uttar Pradesh in 1925, Wahiduddin Khan was involved in India's freedom struggle for independence.
He contributed to build a non violent and constructive policy for the Nation. In 1970 he established the Islamic Centre in Delhi. He has also written a commentary on the Holy Qur'an.
Invited to meetings by all religious groups within India and abroad, he has always been involved in spreading the universal message of peace, love and harmony.