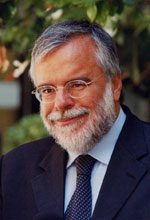 Historian, Founder of the Community of Sant'Egidio
Representatives of the Christian Churches and World Religions,
Dear friends of Cracow,

We still have in our eyes the images of sorrow and evil, carved forever in the abyss of Auschwitz. We thought we were acquainted with sufferance, but such an abyss of sorrow and pain is unimaginable and inconceivable. It is what can be accomplished by human hatred, by foolish racist and anti-Semite ideologies, and by the will to enslave a people, as happened to the Poles. How can so much evil be born in the hearts and minds of man?

We are all sinners and weak. We are aware of the pain and sorrow caused by war and by evil. But the evil we have seen in Auschwitz is too much! Stunned, we ask ourselves: how could it be conceived? But it did take place. Yes, so much evil can be thought of and conceived. Our faith in humankind is shaken. We fear its pride, our pride. We fear the pride of peoples. We fear the foolishness of the arrogant and the blindness of many people. Pride is revealed when a people shatters and despises the family of the nations, believing its own good is served by doing the evil of the other. Then the worst of evil becomes possible.

Then, either one surrenders to pride or plummets into fear!

Thank God, we are not alone, we are among many believers. They bear witness to us that God does not abandon humanity to the foolishness of pride. This is visible in the providential path undertaken in these years, from Assisi in 1986. To return to God means to recover the true path to peace. After our pilgrimage to Auschwitz, this conviction is made more profound and unwavering by sorrow. To return to God means to see friendliness again in the face of the other, liberated from the abyss of evil.

Life is not a game. Politics are not a game, nor are relations between peoples. Violence, the preaching of hatred and contempt, are no joke. They are like seeds that give life to uncontrollable storms, which sweep away entire peoples.

For this reason, for more than twenty years, following the trail of John Paul II, we have turned into pilgrims of peace in many cities of the world, to bear witness to the holiness and beauty of peace. Twenty years ago we were in Warsaw. But we have not grown weary, even though somebody's steps have grown heavier over the years; rather a conviction was born in us, particularly after 11th September 2001, that the world needs dialogue among religions.

The fruit of dialogue is that we have not surrendered to the spell of violence, and to the seduction of contempt and hatred. The fruit of dialogue is that we did not despair, nor were we intimidated. The fruit of dialogue is that we continue to walk.

Beautiful and welcoming, Cracow has confirmed this trust of ours. Here we have found the witness of a people that is rich in humanity, which has suffered from war and from the greedy craving to rule over others. In the welcoming Cardinal Dziwisz we have found the spirit of John Paul II, master of dialogue. Thank you!

Peace starts within us, with the conversion of our hearts, from the will to live without violence. This peace is our choice, and no one can take it from us! But passion for peace can be communicated and it can change history. Meditating upon the changes in 1989, we have understood better the tremendous power of the spirit.

Peace grows through dialogue, and like a network it embraces the whole world, transforming it from the crazed chaos of diversity into a stupendous mosaic. Dialogue, the humble and great French Orthodox theologian, Olivier Clement, said "is the key to the planet's survival, in a world where people forget that war is never a surgically clean solution that enables to banish evil. Dialogue is the heart of peace…".

No man, no people, no community, is evil. All peoples have a good of their own, which joins them to the others. There is a common good that needs to be asserted, which makes the world a family of peoples. This is the dream of many people. This seems to me– for the little I understand – the great plan of God for humankind. In dialogue every people is revealed as good, needy of others.

We start out with a dream, then. Seventy years after World War II, after the disappointment caused by the global economic crisis, it is time for a humanism of peace and dialogue to be born again, capable of giving a soul to this globalised and fragmented world. We shall continue!