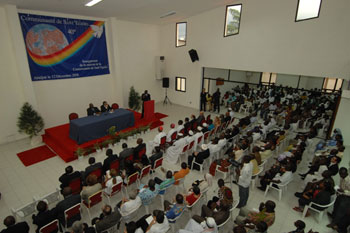 A Great party Friday 12 December in Abidjan (Ivory Coast). About one thousand people took part in the opening of the home of the Community of Sant'Egidio in Ivory Coast in the presence of the founder Andrea Riccardi.
During the ceremony personalities of the State and of the local Church took the floor.
The minister of Justice Mamadou Koné, who intervened on behalf of the government, underlined the role that Sant'Egidio played in the construction of peace during the Ivorian crisis. He also reminded the commitment of Sant'Egidio in the fight against all
forms of death penalty, also the masked ones like the lynching, and the program for birth registration of minors in Africa.
Andrea Riccardi spoke about the long friendship of the Community with Ivory Coast, from service to the poor and to peace, highlighting the choice of building a home in the current difficult moments for the Country. A seat that will be house of prayer, of welcome for the weak and point of reference for all the communities of West Africa.
The Archbishop of Abidjan and the papal nuncio remembered the value of a presence that has been enduring for many years in Ivory Coast, in service to the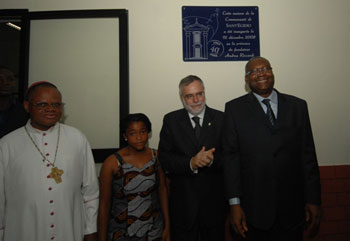 poorest, from the street children to prisoners, to the "schools of the peace" that gather all around the Country over three thousand minors. And actually it was a little girl of the "schools of the peace", Rebecca, who expressed to all her hope for a better world and without violence.
At the end, at the sound of the fanfare, a plate was uncovered in memory of the event. Besides the Ivorian Communities of Sant'Egidio, there has been the participation of several State authorities, ministers, ambassadors, representatives of international agencies, clergymen and persons in charge of various religious confessions, among which a broad islamic delegation.