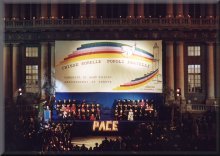 At the threshold of the third millennium, Christians from the East and the West, belonging to different Churches, men and women who believe in the strength and the grace of the Gospel, we have gathered here in Genoa on the initiative of the Community of Sant'Egidio and of the Church of this city.
"Churches as sisters, peoples as brothers" was the demanding title we set as a program. That the Churches be more and more sisters, so that the peoples may be brothers, they may see and believe. It is requested by love, it is implored by the sufferance of the world, it is called for by the truth of the Gospel!
We talk to the Christians all over the Earth. Do not be disheartened by the divisions of the past and the difficulties of the present. The Gospel is the word for the future of the world!
We are conscious of the wounds that incomprehension, self-sufficiency and indifference have caused to the life of many people.
We ask our brothers and every man and woman for forgiveness for our lack of love.
We have common responsibilities before all peoples.
The world has deeply changed after 1989, and it is still changing, but the word of God remains forever.
We do not want to leave the peoples alone in a globalisation which is not able to guarantee authentic values, the welcoming of refugees, justice for the poor South of the world, security of one's life and peaceful coexistence between different ethnic groups and peoples. We do not want to leave the peoples victims of war, which is the mother of all poverty.
We all love our lands and our countries. But this love which enriches our diversity, must never turn into distrust, fear or hatred for the other. We say no to the disease of nationalism. No to the madness of hatred. May the world soon see the dawn of a day when differences are a richness for everyone.
The love of God and the witness of the martyrs unites us. What divides us is truly little.
We turned to pray facing the icon of the Holy Mandilion and we listened to the Word of the Gospel. Looking towards the face of Jesus we enter the new Millennium, with our eyes and our heart turned towards the source of charity and love.
Let us pray the Lord to help us all in undertaking with more and more audacity and courage the path of ecumenism, of service to the Gospel and commitment to peace.
Ecumenism of truth, of witness, of love, of friendship, of people.
Genoa, November 14, 1999