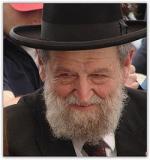 [1927]
He is Chief Rabbi of Haifa since 1975. He is specialized in legal advice on rabbinic rulings.
From 1965 to 1975 he has been deputy mayor of Jerusalem. He is member of several institutes and foundations in the field of the study of Jewish Law.
Since many years he is engaged in the interfaith dialogue, participating with fidelity to the interreligious meetings for Peace organized by the Community of Sant'Egidio.
In October 2008 he made a speech at the Synod of Bishops in the Vatican about the Word of God. He has been the first representative of the Judaism to talk at a meeting of such a level.

[September 2011]