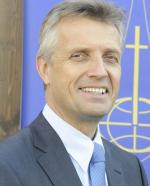 Rev. Dr Martin Junge is the first Latin American general secretary of The Lutheran World Federation. He was elected by the LWF Council in 2009 and assumed office on 1 November 2010.

Rev. Dr Junge was born in Chile in 1961 and completed his primary and secondary education in Concepción. He studied evangelical theology at Georg-August University in Göttingen, Germany, from 1980 to 1986.

In 1987, he returned to Chile to complete his internship and was ordained in 1989. From 1989 to 2000 he served as pastor of two congregations of the Evangelical Lutheran Church in Chile, in Santiago, each having quite different social and cultural backgrounds.

In 1996, Rev. Dr Junge was elected president of the Evangelical Lutheran Church in Chile. One of his most significant achievements was to stabilize the church after a leadership crisis. His primary means of doing so was by launching a strategic plan titled, Ten Years to Grow, in 1999. He participated in ecumenical dialogues at the national level that led to the 1999 signature of the "Mutual Recognition of Baptism" in 1999 by the Roman Catholic Church, the Syrian Orthodox Church, the Anglican Church, the Evangelical Lutheran Church, Reformed churches, the Methodist Church and several Pentecostal churches.

Under his leadership, the Evangelical Lutheran Church in Chile played a decisive role in the 1999 passing of an act granting equal legal status to religious organizations in Chile. In 2000, Rev. Dr Junge was appointed LWF Area Secretary for Latin America and the Caribbean at the Department for Mission and Development. In his nine years as area secretary, he greatly strengthened regional processes and relationships between LWF member churches in Latin America and developed a planning tool for mapping future processes in the region.

As LWF area secretary, Re. Dr Junge took up the crucial issues of neoliberal globalization and illegitimate external debt. He was instrumental in the publication of a seminal work in 2008 titled Not Just Numbers – Examining the Legitimacy of Foreign Debts (LWF Documentation 53) that was presented at the International Symposium on Illegitimate Debt held in Oslo, Norway, in October 2008.

Rev. Dr Junge holds a Diploma of Advanced Studies in the Management of Not-for-Profit Organizations from the Management Institute of the University of Fribourg, in Switzerland. Both churches and agencies in Latin America and other LWF regions recognize his constructive role as an advisor in processes of mediation and institutional strengthening.

In June 2015 Rev. Dr Junge received an Honorary Doctor of Divinity Degree from Wilfrid Laurier University in Waterloo, Ontario, Canada.

Rev. Dr Junge and his wife Marietta Ruhland have two children.

[September 2016]