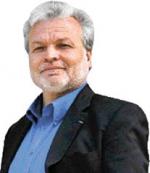 Nedim Gürsel (born April 5, 1951, in Gaziantep) is a Turkish writer. In the late 1960s, he published novellas and essays in Turkish magazines. After graduating from Galatasaray High School in 1970, he studied at the Sorbonne. In 1974, he graduated from the Sorbonne's Department of Modern French Literature. In 1979, he received his doctorate in comparative literature after completing his dissertation on Louis Aragon and Nazim Hikmet. He returned to Turkey but the unrest there in 1980 persuaded him to go back to France.

In 1976, Gürsel published A Summer without End, a collection of stories. For that collection, in 1977, Gürsel received Turkey's highest literary prize, the Prize of the Turkish Language Academy. After the 1980 Turkish coup d'état, a military tribunal charged that Gürsel's collection had slandered the Turkish army. In 1983, the Turkish military censored Gürsel's novel The First Woman. Although the Turkish authorities dismissed the charges against Gürsel, their actions made A Summer without End and The First Woman unavailable in Turkey for several years.

In 2008, Gürsel published The Daughters of Allah. The book prompted the Turkish authorities to charge Gürsel with insulting religion. In June 2009, a court in Istanbul acquitted Gürsel of the charge.

Gürsel is a founding member of the International Parliament of Writers. Today, a citizen of France, he teaches contemporary Turkish literature at the Sorbonne, and works as the research director on Turkish Literature at the International French Science Research Center (CNRS).

[September 2016]