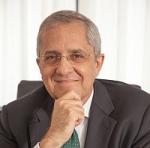 Luigi Pasquali is Chief Executive Officer of Telespazio since February 2013 and Space Sector Director of Leonardo – Finmeccanica since December 2015.

Born in Rome (Italy) in 1957, he graduated in Electronic Engineering at La Sapienza University of Rome in 1982. Subsequently he attends specialty courses in Finance and Business Economics at the IRI Management school and the Business Management School of the Bocconi University of Milan. In 1983 he serves in the Italian National Army as Officer of the Army Technical Corps, in charge of Defence telecommunications system tests.

During his career he has held many positions. In 1984 he is recruited by Selenia as System Engineer for air traffic control systems and networks, following International projects in Europe, Australia and the USA. Among these, of particular importance was the renovation and expansion of the air traffic control network in Germany. In 1995 he joins Stet/Telecom Italia in the international strategies and development area, where he follows international development projects, particularly in Latin America, and strategic planning projects in the telecommunications services sector. During this period he is also active in projects regarding strategic alliances with major international telecommunications carriers (AT&T, DT).

In 2000 he is appointed Director of Business Development at Atlanet, a services company of Telefónica of Spain, specialising in value added services to business customers. In 2002 he becomes Director of the Telecommunications Division of Alenia Spazio(now Thales Alenia Space Italia), with responsibilities for development, marketing and management of telecommunications satellite systems programmes for Defence and Security, for Commercial uses and for broadband development.

In 2005 he takes on the position of Chief Operating Officer of Telespazio.

In the June 2008 he is appointed President and CEO of Thales Alenia Space Italia and joins Thales Alenia Space as Deputy CEO.

He is member of the Board of Directors of Thales Alenia Space and AVIO, as well as member of the Board of AIAD, federation of Italian Industries for Aerospace, Defence and Security.

He is registered in the Roll of Engineers of the Province of Rome, Italy.

(September 2016)