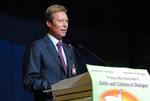 His full name and title is Henri Albert Gabriel Félix Marie Guillaume, Grand Duke of Luxembourg, Duke of Nassau, Prince of Bourbon-Parma, Count Palatine of Sayn, Königstein, Katzenelnbogen and Diez, Burgrave of Hammerstein, Lord of Mahlberg, Wiesbaden, Idstein, Merenberg, Limburg and Eppstein, and Knight of Namur. Henri was born on 16 April 1955 in Betzdorf, in the Grand Duchy of Luxembourg, the eldest son of Grand Duke Jean and Grand Duchess Joséphine-Charlotte.

He holds a degree in political sciences from the University of Geneva and trained as an officer at Sandhurst Royal Military Academy in the United Kingdom. After his father's abdication, he acceded to the throne on 7 October 2000 and became the constitutional sovereign of the Grand Duchy of Luxembourg.

Grand Duke Henri is the Head of State of the Grand Duchy of Luxembourg and commands Luxembourg's army, in which he has the rank of General. In his capacity as Head of State, the Grand Duke plays an active role in promoting the Grand Duchy, and represents the country during visits to other countries.

On St Valentine's Day in 1981, Hereditary Grand Duke Henri married Maria Teresa Mestre, who was born in Havana (Cuba) on 22 March 1956. They have a number of children: Prince Guillaume (born in 1981) – the present Hereditary Grand Duke, Prince Félix (1984), Prince Louis (1986), Princess Alexandra (1991), and Prince Sébastien (1992).

Both the Grand Duke and the Grand Duchess are members of the board of management of the Fondation du Grand-Duc et de la Grande-Duchesse, a charity which aims to combat social exclusion and exclusion due to handicap. The Grand Duke is also a Member of the International Olympic Committee and High Patron of the natur&ëmwelt foundation. The Grand Duchess, for her part, is patron of a number of bodies in the fields of health, development aid, and child protection.

(September 2016)