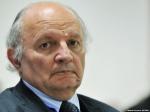 [1943]
He was born just after the liberation of his parents fron an Italian detention camp, he comes from and ancient Sephardi Jewish family which reached Sarajevo by the half of the 16th century after they were expelled from Spain.
Lawyer, he studied at the Law Faculty in Sarajevo.
Promoter of the cultural Jewish rebirth in Bosnia and Herzegovina, he was also among the founders of BENEVOLENCIJA in 1991, a humanitarian organization very well-known in the country.
He has been President of the Jewish Community in Bosnia and Herzegovina since 1995.
He has been working for years in favor of dialogue and national reconciliation. He has also occupied diplomatic posts in some European Cities.
September 2012