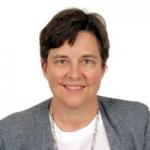 During her extensive work at World Bank, she worked on and directed numerous programmes in favour of Africa, Latin America and Eastern Asia.
She has collaborated in creating and developing the World Faiths Development Dialogue organization (WFDD), which she directs as Executive Director.
She is senior fellow at the Berkley Center for Religion, Peace and World Affairs at Georgetown University and Visiting Professor at the School of Foreign Service for the same institute.
September 2012