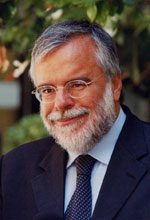 Historian, Founder of the Community of Sant'Egidio
Mr. President of the Republic,
Mr. President of the Central African Republic,
Your Royal Highness the Grand Duke of Luxembourg
Your Holiness,
Distinguished Representatives of the World Religions,
Dear friends,
I am deeply moved, and satisfied, to find so many religious representatives, humanists, believers of different faiths, here in Assisi. I remember what happened thirty years ago, when a simple, albeit profound, vision took shape in the city of St Francis: Religions, praying together, to face the challenge of peace as they stand before the world! This was not business as usual. It also applies today, while religious totalitarianism originates violence and terrorism.
It was something simple, but unprecedented: praying for peace, no longer one against the other, as people had done for centuries - I dare say for millennia. On 27 October 1986 John Paul II summoned to Assisi the leaders of the World Religions. I remember a cold and windy day in Assisi, yet so full of light. We shared the feeling of something historical taking place. Very little talk, or parley: just prayer, in a pacified attitude. One beside the other, for the sake of peace. It was an unprecedented picture, in some ways a modern icon: religious leaders – in the variety of their traditional attire – gathered together. That image was beautiful, and it revealed the aesthetics of dialogue.
To be seen side by side was proof to the respective faithful that living together was actually possible and all peoples were in fact one single family. John Paul II said: "More perhaps than ever before in history, the intrinsic link between an authentic religious attitude and the great good of peace has become evident to all". That link had been covered by fanaticism or ideologically-based systems. But Assisi was not the adaptation to a new political correctness. It was the manifestation of something embodied in the depth of religious traditions, which was rising above centuries of enmity inherited through history.
At the time the world, despite a few timid signals, was locked by the confrontation between opposing blocks, still regarded as the backbone of history. What could prayer do?
Actually, in those very years, faith took up a public role, as well as a mission in the relations between peoples. John Paul II had sensed that religions should be grounded in peace and delivered from the temptation to surrender to war or justify it. Singlehandedly, the hopes and pioneer efforts of those who had dreamt or seen what was bound to happen from a distance were fulfilled. The novelty of Assisi 1986 was proved by the annoyed reaction of zealous Christians, and similar groups of other faiths, afraid it meant giving away the unique originality of their respective identity
Many people, in those late Eighties, concluded that Assisi 1986 had been an extravagant move of a great Pope, indulged by obliging religious leaders, and perhaps a weakness. Among them, the most cunning - which never lack in religious environments or elsewhere - advised that Assisi 1986 should stay as a one-off, with no follow-up, like the folly of a day. It was not folly however, it was prophecy. Since its outset, that day was filled with the taste of history. I recall as if it were today Pope Wojtyla crying out his expectation: "Peace awaits its builders.… Peace is a workshop, open to all…".
To him, Assisi 1986 should not have remained an isolated event: by coming closer to each other in friendship and in prayer, religions were to release energies of peace. Assisi was the starting point for concrete pathways of peacemaking, involving political and religious leaders. Allow me to recollect one among many: the Mozambique peace process that in 1992 ended a civil war with a toll of a million dead.
A few months after the event, Wojtyla stubbornly insisted on what had started to be called the "spirit of Assisi": "The unique value of prayer for peace was discovered there in an extraordinary way, for peace cannot be attained without prayer, - and he stressed – the prayer of all, and of each one in his own identity and search for the truth". The prayer of each and everyone is necessary: no one is exempt. But with no obligation to give up one's own identity.
For this reason, since 1987 I took resolve, together with my friends of the Community of Sant'Egidio, to continue the pathway opened by John Paul II, that religious leaders should be gathered. I recall the enthusiasm of Cardinal Martini for that first meeting in Rome in 1987, in Trastevere, which John Paul II strongly supported, asking us to go ahead. I was impressed by the desire of many religious leaders to exit from a narrow vision and embrace a broader one - which, years later, we would have called the global world. Indeed often a narrow vision entraps believers into antique aggressive stances, compounded with new fanaticisms and nationalisms. Meeting with each other is a liberation from all this.
Thus, year after year, for thirty years, we continued to meet with each other. Meanwhile, around the globe, the Franciscan Families also spread the spirit of Assisi, fostering a brotherly vision of the encounter among religions. I take this opportunity to thank the Franciscan Communities for not having let this light be extinguished. I also would like to thank my friends of Sant'Egidio who had faith in such a concrete path, which could have seemed unreal. For thirty years, the spirit of Assisi has made progress: it has united in brotherhood, it has fostered deeds of peace, it has raised the awareness of the bonds between different religious communities, it has countered the subjugation of religion to war and terrorism.
From the Christian East a strong drive in this respect has come from Ecumenical Patriarch Bartholomew. Since 1992, from the crossroads of the Bosporus, he has worked tirelessly to further the encounter of different worlds. I wish to honour the 25 years of his commitment for faith and peace, which are achieved this year. Bartholomew has unambiguously unmasked fanaticism: "War in the name of religion is war on religion". Peace among religions, however, is connected to peace with the environment. In Naples in 2007 he said: "Violence (against nature) has consequences on man, because nature violated takes its revenge upon man who violates".
In this thirty-year-long journey, we faced the memory of war, of World War II and of the Holocaust. I remember the meeting in Warsaw on 1st September 1989, fifty years since the beginning of the World War, in an atmosphere restless because an order was coming to an end. There, the religious leaders of Japan came in great numbers, since together with the Asian religious leaders they preserve a live memory of the World War. Venerable Eti Yamada, who was 94 at the time and had taken part in Assisi, recalled "We need to continue the ideas of the Day of Prayer of Assisi… thus the spirit of Assisi was taken East". Japan, tested by the war and sometimes with a sense of loss as it experienced decades of rapid development, found a powerful spiritual orientation in the spirit of Assisi.
In the two decades that followed, the spirit of Assisi has dwelt in the global world, with its challenges: the drawing closer of peoples, but also new fears. It has reckoned with the terror of history that clutches everyone today. Zygmunt Bauman, whom I greet with esteem and affection, has written: "The most technologically advanced generation in human history – which is ours – is also the one most afflicted by feelings of insecurity and powerlessness". Bauman has clearly illustrated the complexity of human beings: his person and his humanistic thought are, and have been, a reference for the dialogue with humanists.
No hegemony can hold together a world so fragmented and complex as this global world. World governance is slow to be fulfilled. But there is need of a global and ecumenical vision: the awareness that we all belong to one same humanity. The art of dialogue becomes paramount to unite and bridge gaps, to illuminate what is shared and give value to what is different. Mastery in the art of dialogue – Bauman insists – is "something humanity needs to face more than anything else, because the alternative is too horrifying even to conceive". Dialogue weaves and restores the fabric of a world that is often in pieces.
Pacified religions have turned into workshops, even in the twists and turns of everyday life, to develop dialogue as the art of living together: they challenge dreadful simplifications, whether materialistic, market based, or even fanatical. It is dialogue in everyday life: I remember the heated suburbs of Abidjan, a few years ago, after the burning of a mosque, when the imam, the parish priest and the protestant pastor stopped a crowd, while it was going to burn the local church. The same happened in the Central African Republic, where the imam, the pastor and the bishop of Bangui built bridges between ethnical and religious groups that were fighting each other. Indeed, at all latitudes, either we live together or we shall die together.
Often, facing terrorist acts, or conflicts, we are asked: what use is your dialogue? We could say: what use is prayer? How empty the world would be without dialogue and prayer! Prayer secretly illuminates the world, while dialogue holds reality together, subject as it is to the risk of fragmenting because of hatred and misunderstandings.
Dialogue is the intelligence of coexistence: an art necessary in a world made of different religions, cultures and civilizations. Not one civilization, but a greater civilization: the civilization of living together. Here believers and non-believers are together. As the French President said, in greeting Emile Poulat, a great friend of ours who passed away, "Laicité is not a doctrine, nor a dogma, nor the faith of the faithless. It is the art of living together".
Over these years, many religious worlds have turned into spaces where dialogue and living together are treasured. A scholar of religions, a great companion of our journey, Pietro Rossano, once said:
"Every faith, when it expresses its best, tends to peace. We are aware that faith itself is a weak strength. It is alien to weapons, to money, to political power… but it possesses the power of the spirit, that can make it strong, indomitable, and finally victorious". The strength of the spirit leads to living together in peace. All this confirms us that we need to be braver in creating a movement of peace.