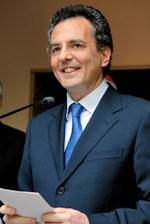 University for Foreigners of Perugia, President of the Community of Sant'Egidio
Padre Santo, benvenuto in quest'arca di Noè! Siamo tutti insieme qui da qualche giorno per discutere e lavorare per la pace e oggi con tanti graditissimi ospiti pregheremo per la pace nel mondo e che il Signore ci protegga e protegga il mondo dalla guerra e dalla violenza.
La nostra è solo una brevissima parola di accoglienza e di benvenuto anche perché oggi vogliamo insieme a Lei festeggiare un anniversario importante, i Venticinque anni del Patriarcato di Bartolomeo I Patriarca Ecumenico di Costantinopoli.
Che cos'è il Patriarcato Ecumenico lo ha detto Venticinque anni fa il Patriarca Bartolomeo, rimando fedele a queste parole: "E' una istituzione puramente spirituale, un simbolo di conciliazione e una forza disarmata.
Eccoci, assieme al Patriarca Bartolomeo, vogliamo essere tutti oggi con Lei Padre Santo una forza disarmata ed unirci a questa festa per il patriarca che ha unito nella sua persona i due mondi dell'Oriente e dell'Occidente, e respirare tutti insieme con questi polmoni della fede che ci aiutano ad andare avanti e a proteggere dalla guerra e dalla violenza tante persone che soffrono ed oggi intorno a lei ci sono tanti rifugiati che sono qui a pranzo con noi: non è solo un simbolo, è una realtà, perché ogni religione ha il suo cammino accanto e insieme ai poveri, come Lei, Padre santo, ci insegna sempre.
Grazie , auguri, ad multos annos! Patriarca Bartolomeo, Axios!Axios!Axios!
e Buon appetito! Grazie.