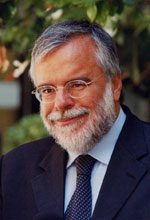 Historian, Founder of the Community of Sant'Egidio
Distinguished ladies and gentlemen and dear friends,
I would like to thank all the participants to this meeting, men and women of faith. I am particularly grateful to the Authorities of Barcelona and Catalonia which have supported in all ways the realisation of this event, showing once again that this land is truly European and Mediterranean, a serious and profoundly civilized Country, where people feel the challenge of living together among different people. We like Catalonia, because it is a land of freedom and enduring wisdom.
I am grateful for the initiative of Cardinal Martinez Sistach, who offered to hold this meeting here in Barcelona, and who welcomed it with joy. I cannot mention here all of the numerous personalities who are here, but I wish to express my respectful greeting to President Dimitri Christophias, with whom we remember the 50th anniversary of the independence of the Republic of Cyprus. With friendship, I greet the President of Montenegro, Vujanovic, and Mrs Rabiatou Diallo, President of the Transitional Council of the Republic of Guinea.
The very fact that many people take part in this meeting of dialogue and prayer reveals a yearning: the desire to continue and search for peace through a spiritual dialogue. We are all aware of how fragile peace is in our contemporary world. Peace is dramatically fragile in many parts in the world.
Indeed, it is also weak in the hearts and minds, in the consciences of men and women, it is spiritually fragile. There were times when this was not the case. In 1989, for instance, people thought they had conquered peace. Peace was the end of the cold war.
On this day, twenty years ago, Germany was reunited. Only a few weeks before, such an event would have been considered impossible. The eminent Polish historian, Geremek, said that in November 1989 he had talked with the German Chancellor, Mr Kohl, who had told him "neither I, nor you, will ever see Germany reunited". Only a year later, on 3rd October 1990, Germany was reunited. History is full of surprises, with its tangle of political and economical causes intertwining with the strength of the spirit.
After 1989, peace seemed to be at hand. Some people believed that the growth of the market would have led the world to peaceful unity, as if it were providence itself. It was not. Actually, 11th September 2001 revealed the abyss of violence history was flowing upon.
Please, allow me a personal memory. A few days before 11th September, on 4th September, nine years ago, our international meeting of religions for peace in Barcelona was ending, in the same spirit as today's: the spirit of Assisi. Some of the participants to the meeting are here today. At the end of the meeting in Barcelona in 2001, an appeal for peace was published, stating "Peace is the name of God, and whoever uses the name of God to hate human beings and for violence moves away from true religion". This is our spirit: the name of God can never justify hatred and violence. Peace alone is holy, not war.
Unfortunately, only a week later, the US were hit by a brutal and insane terrorist attack that claimed many victims in New York. Many people of different religions and nationalities were killed. On that day we understood how closely tied we are to the US. The entire world was shaken. Several other serious terrorist attacks followed, including in Madrid in 2004. A huge number of casualties and a continuous threat. It was the beginning of difficult years, marked by the experience and culture of conflict. How could we protect ourselves? – That was the question. The new century opened under the mark of terrorist violence. It was necessary to arrange suitable instruments. In the following years, in a chain of reactions, war was re-established as an effective tool to defend peace and safety.
The terrorist threat is not over. What's more, the idea that war is in the nature of a world full of conflicts gathered consensus. History's midwife – people said – is conflict: a clash of civilizations, religions, ethnical identities, nations. Conflict – people reiterated – is the true nature of peoples, of religions, of the dynamics of history itself.
Dialogue seemed to be a dangerous naivety. We had been patiently gathering and dialoguing since 1986, when Pope John Paul II initiated this path in Assisi. But then, what did it mean anymore? 11th September - many told us – revealed the naivety and illusion of dialogue. Nine eleven seemed to crush, like a mountain of hatred, the voice of the appeal for peace that has risen only a few days before from Barcelona. Dialogue is for dreamers – we were told again and again: useless, rhetorical. What was its use?
However, many people of great spirit had taken part in this path since 1986, lifting up their prayer for peace at our side, one beside the other. We are proud of these bonds, which were like bridges while worlds were falling apart. Year after year, through the steps of this path, a family of men and women of dialogue and seekers of peace was established between people of different religions. My dear friend Rabbi Rosen remembers it well; and with him, our friend Esslimani, and Gregorios Ibrahim too. Many spiritual stories have connected to ours, like the story tested by the fire of persecution and spiritual resistance, of the Russian Church, represented here by Exarch Filaret of the Patriarchate of Moscow.
The world of the 2000 discovered it was split in many identities, far away from a humanity unified by globalization. In several situations the conflict of identities, religions and cultures, was close to becoming a violent clash. Some wanted to enrol religions under the flag of conflict. Spiritually frail men and women felt strong by speaking of strength and war. Fanaticism became the landfall for people who had lost their bounds, weak people with hardened faces and hatred in their eyes. People who are empty and mediocre are always the worse threat.
Nearly a decade has gone by since that terrible September 2001. What does the culture of war achieve? We have seen the failure of war in bringing about peace. Whoever ponders over history is aware of the empoisoned inheritance left behind by war and terrorism. The events of these recent years confirm the wisdom of this ancient thought: war does not make the world a better place. So much hatred has been sown, so much fanaticism, so many lives have been lost! We have not seen a consistent struggle against poverty in the world. Resources in this respect have decreased. There has been little political will to put brains together to develop ways of fighting against poverty. Severe situations of conflict are still open, such as the Holy Land. I believe that reconciliation in that region, including safety for Israel, disarming the violent and the terrorists, and a homeland for the Palestinians, is hard to achieve: it will be the prophetic sign of a new era for the world.
In the past decade the myth that the global market would have providentially led to peace and world unity was shattered. As well as the myth that war can bring to peace. Unfortunately, however, many people still practise violence and terrorism. But what worries me the most is that the hope to build a more human world is worn out. Hope is the driving force of every step ahead of humankind in every generation. It motivates the patience that is necessary to accomplish a different world. And different means first of all a world of peace, because war is the most inhuman aspect of the history of peoples.
The hope of making the world of tomorrow a better place is worn out, a better world for our children, and for the children of our children: this hope is the driving force of every generation. It was the hope of the generation that rebuilt Europe. On the contrary, hope yields to hopelessness, to smugly giving in to the dark side of history. Hopelessness, disguised as realism, means to focus on one's own individual interest, or group interest. Hopelessness means to accept us as mediocre, dreamless, mere managers of the present. Is this not the case also for men and women of religion? Let us ask ourselves this question! Are they not content with the mediocrity of a hopeless life? Without hope, visions for the future will not bloom.
In years with no hope, during the cold war, John Paul II wrote the following poem: "I believe, however, that man suffers above all due to a lack of 'vision'".
Are these not the feelings of contemporary men and women? Men and women who suffer due to a lack of vision, because their horizon stretches too far, flooded with lights and signals. Confused, they focus on themselves, challenged by too many different neighbours, feeling the need to entrench inside themselves. The culture of conflict stems from a lack of vision, of hope, from a selfish and short-sighted focus on oneself or on one's group.
Should we not, dear friends, work for the coming decade to take another route, and not the one of the first years of the 20th century? Should we not force the times with the strength of the spirit?
It is not enough to preach tolerance. Men and women cannot be united on the surface. Unity is not bought at the market. It takes something deep, capable of bringing together the many differences under one single destiny. We need a movement in the depth. "The longest journey / is the journey within" – wrote the first UN secretary, a mystic, Dag Hammarskjold. We need to make the longest journey into our own hearts, in order to recover ourselves as friends of God and friends of the others. It shall renew the 12th century tradition of interest for the other and of faith, which had its climax in Ramon Llull: not only a man of dialogue, but first of all a passionate believer. Llull called God the Beloved and the believer Friend: because whoever believes is a friend of God and at the same times a friend of human beings.
In a meeting of spirit and friendship, we weave authentic unity between different people. In the Holy Koran we read: "Set your trust in God, your protection will be enough" (Sura 33, Al-Ahzab). Speaking to one man after another, paying heed to sorrows and to the thoughts of individuals, religions educate to a vision of oneself, of the other and of the world: it is the vision of peace.
We need to rebuild the backbone of a world as family of peoples, with all their diversity, a family of different civilizations and religions. It is no small task. There is need of a spiritual foundation capable of grasping the dignity of difference. Peace is a human and spiritual foundation, which is capable of making different worlds live together. Peace has a spiritual foundation in the different religious traditions. Rabbi Jonathan Sacks wrote: "The test of faith consists in understanding if I can make room for difference: Can I recognise God in someone who does not correspond to my image, whose language, faith, whose ideals are different from mine? If I cannot, then I have made God in my likeness…". It is a question each of us can ask him or herself.
There is no room for relativism by which all religions are equal. Religions are ultimately different. However, we can find in our own religious tradition a message of peace that bears respect for the dignity of people who are different form ourselves, to the point of recognising them as members of the same family. The one-who-is-different is at the same time a member of the family. We have to avoid emphasising differences, a dangerous game which is detrimental to the social fabric of our countries, although it may give the impression of reaping electoral returns. Consequently, the presence of the Roma people should not be viewed as menace, but as an issue to be addressed with patience and commitment. Social integration of immigrants is an epochal task, to be accomplished in an intelligent and sensible way. There are many success stories– just to give an example, the Peace People movement participating to this meeting of ours. A great European, the French national Maurice Schumann, who died forty years ago, and who played a key role in the reconciliation effort between the French and the German people which had waged war against each other, and in the making of the European Union, used to say:
"The masters of history are not those who nervously act at the centre of the stage. They may perhaps have a temporary influence on history; yet they cannot steer history in an irrevocable way. There is only one "Master of History" who ultimately orients our destiny according to His plan: the Almighty; He chooses his instruments among people of goodwill".
We are men and women of goodwill, capable of steering the course of history! Dialogue calls upon religions to become spiritual pillars of a "world as a family". The word "family" is a simple, human, ancient, at-reach, word. It bears a wise naivety: the "world as a family" witnesses the radical unity between peoples. This terminology may be considered naive by political analysts. We chose this wording as the proper frame for our Meeting, in this city of Barcelona which is about to inaugurate the temple of the Sagrada Familia, a modern religious construction, which boldly portrays the beauty of the family in the name of God. Family speaks of unity. We have to rebuild momentum, and give hope, to all the quests for unity in the contemporary world; in Europe and in the entire world.
In these days, through dialogue, meeting, by rekindling the relationships built in the past years, women and men of different faith uncover themselves as a family of peace-seekers. In this family, diversity is not an obstacle or a pretext for misunderstanding. In 2007, in Naples, Benedict XVI, addressing the religious leaders convened by Cardinal Sepe to our meeting, declared:
"While respecting the differences of the various religions, we are all called to work for peace and to be effectively committed to furthering reconciliation among peoples. This is the true "spirit of Assisi" which opposes every form of violence and the abuse of religion as a pretext for violence. In the face of a world torn apart by conflicts, where violence in God's Name is at times justified, it is important to reaffirm that religions can never become vehicles of hatred; it is never possible, invoking God's Name, to succeed in justifying evil and violence. On the contrary, religions can and must offer precious resources to build a peaceful humanity because they speak of peace to the human heart.…"
The world is definitely marked by diversity: it is politically multi-polar, but also multicultural and multi-religious. This complexity finds its unity in the patience of dialogue. But dialogue also needs platforms. Emile Poulat wrote: "individual goodwill is not enough: we need platforms upon which we can structure these encounters, and by which we can grant to the endeavours of dialogue all the time they ultimately require". In this meeting of Barcelona, diversity does not equal to conflict. Allow me to highlight the important presence here of China, whose expansion in Africa and in Europe goes hand in hand with addressing its own development as well as the spiritual challenges of humanity. Together with China we have Indonesia, Japan, Pakistan and India. Asia is not only a business opportunity or a marketplace: there is a spiritual dialogue to initiate in the multi-polar Asian world. Together with Latin America, there is Africa, where international responsibility is put to test.
Why dialogue? The past years' experience is and indisputable proof that without dialogue the world would be much worse. There are no measurable results in the short term. Dialogue is alike prayer. Can prayer make a difference? However, what would the world look like, if people had not prayed? Would the situation of Guinea have changed, without prayer, and dialogue as a consequence? How would Côte d'Ivoire be today, without the meeting between religious people that nurtured transition through dialogue?
It is not by chance that dialogue and prayer are intertwined along the path of the Spirit of Assisi. A great spiritual man of the Twentieth Century, Paul the Sixth, said: "The transcendental origin of dialogue … is to be found in the very intentions of God. For its nature, religion is a relationship between God and man. Prayer is the dialogue in which this relationship is expressed". Here are the spiritual dimensions of peace: peace in the hearts and minds, peace in human relationships, peace in the relationships between peoples.
This is why we believe that the first decade of the Twenty First Century, which began on September the Eleventh, is about to end, we must take courage and advance a new time capable of providing spiritual foundations to new times of peace. These days we will address many different issues. But there is cross-cutting conviction: we cannot disregard the spiritual foundation. For it is a spiritual foundation of peace. For this foundation does not originate from ourselves. This is our faith. We believe that thought the "weak strength" of faith we will be able to build, with renewed courage, a "world as a family of peoples"