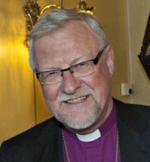 Lutheran Bishop, Norway
DIALOGUE BETWEEN CHRISTIANS AND JEWS
For forty years I have lived in dialogue with Jews and Jewish tradition, in Israel as well as in Norway, and in gratitude to my Jewish friends I would like to say that it has changed my life and deepened my faith. In this Sant' Egidio conference and as a Lutheran bishop I would also like express that the Jewish-Christian dialogue has brought us closer not least thanks to the second Vatican Council and the late pope John Paul II.
The context and content of dialogue is not static. In Europe the Jewish-Christian heritage is a foundation of our culture. Nevertheless it was here that the pogroms and the Holocaust took place. Today we are challenged by a broader cultural and religious horizon. We were reminded of both in Krakow last year, and we experienced it when we walked along the railway lines in Birkenau – Christians, Jews, Muslims, Hindus, Buddhists and many others together with Polish school children, a walk I believe we shall never forget.
With this unforgettable moment and wider horizon in mind I will focus upon one word and challenge to us as Christians and Jews in dialogue. I give it to you in a quote from the Jewish scholar and rabbi Abraham Joshua Heschel: "When the crisis of today is ignored… (and) when religion speaks only in the name of authority rather than with the voice of compassion, its message becomes meaningless." The word is compassion, and I believe Heschel's call still is a challenge to people of faith, also in our dialogue.
There is a biblical story about this compassion which we share. It is the story about Jonah who tried to flee from his commission from God to go to Nineveh. From the ship where he had taken refuge, he was thrown in the sea, but after praying inside the great fish, he went to Nineveh to preach doom. The Ninevites listened, they turned to God and the city was not overturned. But Jonah was displeased and angry, only to discover a God of greater compassion. So the story ends with the words of the Lord: "Should not I have compassion with this great city, it's twelve times ten thousand inhabitants and all its animals?"
As I listen to this story, I hear between the lines the self-presentation of God to Moses at Sinai: "The Lord, the Lord, the compassionate and gracious God, slow to anger, abounding in love and faithfulness, maintaining love to thousands, and forgiving wickedness, rebellion and sin." (Exod.34,6f) As a European Christian I am too aware of the dark history of anti-Semitism and the Holocaust on our continent to take this lightly, and we still have to confront this history and keep it alive in our consciousness for the sake of a different future. But I also believe that in a time of many crises we should engage in a common discovery of the greater compassion of God which goes beyond our imagination.
People of faith are people of passion, at least I hope this is the case. But passion without compassion often leads astray. In the last years we have seen a resurgence of religiosity in our societies. Partly it has been a religiosity revolting against authority, with a postmodern emphasis upon the choice of the individual and little room for passion. Partly it has been a religiosity marked by authoritarian tendencies and passion, but with little room for compassion for the life of others. We call this fundamentalism and see it both in Christian, Jewish, Muslim and other contexts. Can we help one another and discover a way in which to keep in balance the passion for our traditions and the greater compassion of God for life and for the other?
The mentioned Abraham Joshua Heschel made a distinction between theology and depth theology. Theology deals with creed and dogma, depth theology with faith and the act of believing. He says: "Theology declares: depth theology evokes; theology demands believing and obedience; depth theology hopes for responding and appreciation." Depth theology brings us to what goes on within our lives: "… the innerness of religion. Vague and often indescribable, it is the heart of religious existence." Here I may add: It is when we reach this depth in our dialogue, recognizing that on a theological level we may have to agree to disagree, that new horizons may open up for a way forward and for common acts according to the greater compassion of the One God in whom we believe.
Let me then point to two areas where this way forward with a greater compassion is relevant. The first has to do with the ecological crises and its tragic effects for the poor of our world. It is said that the most significant gift of the Jewish tradition to civilization is its sense of time – the rhythm of life between rest and labor, with workdays and days for holy rest, between seasons of labor and festivals of joy. This rhythm is also marked by a distinct concern for the poor as well as all creature and the soil from which we live. As Christians we adopted this biblical tradition with our weekly rhythm and calendar, but we need to discover it again. We need to discover it again together because of its significance for how we relate to the environment. Is not one of the root-causes as well as the effects of the current abuse of earth, water and air that we have abolished the life-giving rhythm of time given to man and to creation? This is even emphasized at the end of the Jonah-story, with a word which never stops to surprise me: "Should not I have compassion with the inhabitants of this great city and all its animals?"
The second point has to do with the ongoing conflict and crisis between Israelis and Palestinians which in later years also have deeply effected the dialogue between Christians and Jews. This is also an ecological crisis of its own kind, concerning both environment and living space in a land which is close to the hearts of Jews, Christians and Muslims alike. I am not naïve with regard to the complexity of the questions involved, but I believe our dialogue as people of faith has something to contribute. In a modest way we should insist that religion should not be used as a source of hatred and conflict, but serve the goals of justice and peace. On a deeper level we should together constantly contemplate what the greater compassion of God implies both for Jews, Muslims and Christians, for Palestinians and Israelis, and by constantly reminding the policymakers of this compassion with its broader vision. In this setting I must add what I have to emphasize in my Norwegian context these days when voices advocate abolishing contact and cooperation with Israel: This is not a time for severing ties with Jewish groups and persons there, on the contrary, it is a time for strengthening our dialogue and friendship in search of the compassion which is greater and one day may lead to a reconciliation beyond our imagination.
Finally, I must back to Jonah. It was when he had fulfilled his commission that he was surprised and discovered that God was a God of greater compassion. This is also my hope and dream for our continued dialogue and common action from the depth of faith that we do not lose our ability to be surprised by what his compassion may do to us and our surroundings.