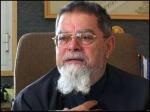 In 1947 he has personally experienced the tragedy of the displacement of Arabic language population from the territories that would become the State of Israel.
In 1965 he was ordained parish priest of the church of St. Joseph in Ibillin, a small Arab village in Galilee.
He is committed in promoting reconciliation between rival families, between Palestinians and Jews, between Muslims and Christians. He founded schools in which Arabs and Jews children and youths, Christians and Muslims, can be educated in a spirit of respect and dialogue.
His work for peace has granted him three nominations for the Nobel Prize for Peace.
In 1994 he received the World Methodist Peace Prize and in 2001 the Niwano Peace Prize. The same year, Emory University and the University of Indianapolis acknowledged his work by granting him an honorary degree.
In February 2006 he was ordained Melkite Archbishop of Akka, in Galilee.