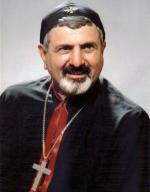 [1944, Hassaké, Syria]
He is the Patriarch of the Syriac Catholic Church since January 2009.
He has exercised his pastoral ministry in Syria, Lebanon, and – from 1986 to 1994 – in the United States animating the religious life of Syriac Catholic emigrants.
In 1995 John Paul II appointed him as Eparch for the Syriac Catholics of the United States and Canada.
When in January 1996 he became a Bishop, he continued serving in the United States until his election as Patriarch and Primate of the Syriac Catholic Church.
Together with Cardinal Leonardo Sandri, Prefect of the Congregation for the Oriental Churches, he has been the co-president of the Special Assembly of the Synod of Bishops for the Middle East, which took place in the Vatican in October 2010.