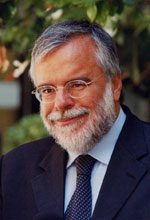 Historian, Founder of the Community of Sant'Egidio
Mr President of the Federal Republic,
Illustrious representatives of the Christian Churches and great world Religions,
Your Eminence Cardinal Marx,
Honourable Guests,
Dear friends,
I thank you all for taking part in this Meeting. I am grateful to the President of the Federal Republic who honours us with his presence and his words.
In the moving link with New York we remembered September 11th. We have lived that tragedy over again, as well as the global compassion that stemmed from those moments. Somebody said: "We are all Americans". There was an immense sympathy for the Americans and their plight: it was a day of spiritual globalisation.
September 11th, 2001 was the tragic opening to the XXI century.
We clearly saw how terrorism is the foulest form of violence. That tragic event, however, was read by many people as evidence to a certain interpretation of history, as a standing conflict between civilizations and religions, particularly between Islam and the West. This was said. And a generalized culture of conflict developed over the last ten years.
In the midst of this culture, dialogue seemed a dangerous naïveté, whilst war was rehabilitated as a means to secure the rule of law, to defend oneself, to struggle against terrorism. There were already several open conflicts, such as between Palestinians and Israelis (a wound paining the two nations and the entire Middle Easter for more than sixty years). Terrorism forced its vile hands upon the world on a number of occasions in the ten years since. The culture of conflict turned into a generalized, seemingly natural response to a world seen as prey to a clash of civilizations…
Hope for peace, consecrated by the 1989 events in Europe, was denied. 1989 was the peaceful and non-violent victory of the forces of liberty: I think of the reunification of Germany, the liberation of Poland and the East. At the end of the bleeding XX century, tired of the balance of terror, the world seemed to be shifting to an order of peace. In Africa, Latin America, Asia, there were peaceful transitions to democracy. In 1986, while the cold war was still on, John Paul II summoned the religious leaders to Assisi to pray for peace, insisting on the bond between religions and the construction of peace.
After September 11th many applauded the conflict. The terrorists did not dislike it. In a threatening message Ben Laden said: "they want dialogue, we want death". The culture of conflict expressed the fears and anguishes of a globalized world, which had lost its bounds and was threatened on many sides: it seemed protecting. The spirit of Assisi seemed no more than a utopia.
There is no need to insist on the political results of the investment in force. In Afghanistan, Iraq and Pakistan 130,000 civilians lie dead on the fields, as well as several thousand soldiers. It is a fact that a spirit of distrust and antagonism has grown among peoples, while exchanges and markets were turning globalized. However, a global sense of common belonging to the human family has not not grown accordingly. Strange: the global world is so fragmented, without a global conscience. Rather, dangerous religious and ethnic fundamentalisms have developed.
With the severe ongoing economic crisis, an urgent and primeval feeling has developed: think of yourself and distrust of all others! We focus more on ourselves and our problems, and grow indifferent to the world. But the life of distant countries has a lot to teach to us. Six months have gone by since the terrible cataclysm struck Japan: I would like to express our esteem and admiration to our Japanese friends, whose courageous demeanour has touched us.
After 1989, which exalted the courage of liberty, freedom from fear, terrorism, and violence failed us, as well as freedom from need for millions of people in misery, after the failure of the Millennium Development Goals, which included poverty reduction. And the number of refugees, displaced, and migrants has even increased, raising new problems that urgently need to be faced; I refer not only to the ones in Europe, but to the many more within the African continent.
These ten years have unfortunately left us a world in even deeper anguish. The culture of conflict has swelled, also due to the wide-spreading violence in various countries of the world, a fruit of political strife, of mafias, of crime: widespread violence that sometimes is as bad as civil war. We have indeed wasted precious years.
After the link with New York, dear friends, today we would like to go back to the feelings of global sympathy and compassion of that day: the spirit of solidarity of September 11th, something intense and true, like the glad days of 1989 in Europe.
If we are many here in Munich in Bavaria for this 10th anniversary, we owe it to the will to relive that spirit of sympathy. Cardinal Marx, Archbishop of Munich and Freising, wished to invite us to this beautiful and fascinating city, where nature has its place, showing that this prosperous Europe is keen to build a civilization of peace. I thank him for his sensible and generous invitation. Together with him, I thank the staff of the Archdiocese for their generous commitment and warm welcome. And I thank the approximately 500 volunteers of the Community of Sant'Egidio, from Germany and elsewhere, who collaborate working for this meeting.
I cannot greet all the many and authoritative personalities who are present. I wish to mention the President of the Republic of Slovenia, who honours us with his words and presence. I address my affectionate and respectful thought to His Beatitude Daniel, Patriarch of Romania, one of the spiritual actors on the scene of contemporary Europe. I am also grateful for his presence to His Eminence the Exarch of Belarus, Filaret, who has borne witness to hope in a hopeless world for years. On 1st September 1989, younger men and women, we were with Metropolitan Filaret in Warsaw, invited by dear Cardinal Glemp, whom I fondly greet. On 1st September 1989 we celebrated the prayer for peace in Warsaw and we could feel the strength the non-violent spirit of 1989, which drove the iron regime to its end without shedding blood.
Among us I see the protagonists of the freedom movement that is developing in the Arab world. I greet them with friendliness, certain that the breath of freedom has an immense value in itself. I am glad to greet among us the President of the Republic of Guinea Conakry, a steadfast witness to liberty and a protagonist of the democratic transition in his Country, which the Community of Sant'Egidio is very close to. All those who have convened here, with different stories and spiritual physiognomies, stand as living witnesses of the human and religious energies of our contemporary world. This gives us hope for the future.
After September 11th, 2001 globalized compassion was not naïveté, rather it emerged with the sense of a common destiny, a profound intuition, lost in the practice and culture of conflict. After September 11th, John Paul II wanted religious leaders to return to Assisi to say no to terrorism with the prayer of religions. He wanted the last day of Ramadan to be devoted to fasting for Catholics, in order to show that there is no hatred between religions. Only the spirit overcomes the culture of conflict which has shaped personal behaviours and political orientations in these last ten years.
With renewed strength we need to raise the issue of peace. Peace is not rhetorical; it is a dire need of friendliness, union, dialogue. Peace is a necessity for all finds of people who live close to each other. Peace means an end to open conflicts. But it is also a political construction: in Europe it means union among European countries in order to exercise a common responsibility in the world. In poorer countries peace means freedom from misery. It means security over terrorism. Peace is to make a society of coexistence grow in cities laden with tensions. Peace is not a utopia, it is realism. Peace is a noble word in the dictionary of the spirit, but also as daily and necessary as bread.
Yes, the coming decade must not be wasted. We need a turning point because we are all – peoples, religions, ethnic groups – bound to live together, in the local settings as well as on international scenarios. For this reason it is necessary to say no to terrorism and all fanaticism. The more we live together, the more it is necessary to create a language of peace. It is a crucial issue for this 21st century.
To speak of peace sounds like a luxury during the economic crisis. Will the crisis cause us to be more concentrated on ourselves and our societies? More antagonistic? The poor pay the price of the crisis. Rather – Cardinal Marx wrote – we need a "globalization of justice", for an order of greater solidarity, also in facing "old and new bands of thieves".
In the current economic crisis, religions can help change mindsets: they remind us that the value of life is not dictated by the sum of a person's wealth. Happiness comes from investing in what does not pass. Sober consumption makes our spirit more free and opens us up to the needs of others. On the contrary, the economic crisis can lead us to greater misery, from a human and spiritual point of view.
The coming decade cannot be wasted. We have the resources for a change to take place. But no one seems to be in charge, neither of the two empires of the cold war. There are many protagonists in a multi-polar world. However, with so many protagonists, there is need of a culture and a language of peace, in order to live in harmony.
Strength is to be found in the spirit. Men and women of the spirit can do a great deal if they seize the initiative, change their lives and peacefully try to change the lives of others. There are things that cannot be reduced to mere economic terms. We need to appeal to the spiritual resources of humankind. This is the sense of our congress, on the same path as the Day of Assisi in coming October wanted by Benedict XVI. Religions are entrusted with a great task. In every religion peace is inseparable from God. For 25 years, year after year, the spirit of Assisi – friendship among religions – gathers us together in different cities: we have held dialogue open on the themes of spirit and history, preventing it from turning to dust when bridges crumbled or were bombed. Religions must never again be exploited to divide the world and sacralise hatred!
In this world, frightened by the economic crisis, we need a breath that may kindle hope and guide us all to the awareness of a common destiny. Religions show that men and women are all making one great journey. It is basic knowledge, as plain as bread and as necessary as water. But sometimes this awareness is lost in the maze of hatred, in the perversion of culture or opposing interests. It is necessary to give new life to simple and basic unitising tensions in all the working yards of unity. Religions and cultures can give new life to this basic and simple awareness: "Be simple with intelligence!" as the great John Chrysostom taught.
In 1986 John Paul II said in Assisi "More than ever before in history, the intrinsic link between an authentic religious attitude and the great good of peace has become evident to all… what marvellous, exhilarating call to follow".
What an exhilarating call to follow! Peace, fed by the spirit, becomes a working yard for works of unity, encounter, and liberation from need, human and spiritual enrichment notwithstanding the economic crisis. So the world can recover enthusiasm and not collapse due to fear of the other or anguish concerning the future! Between the clash of civilizations and crude globalization, reduced to solely economic terms, stands the wide field of the construction of unity in diversity. On this field we have set our stakes for 25 years: we were never disappointed; and here we shall build the future!