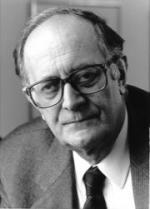 Former President of the International Red Cross Committee, Switzerland
Riflettendo sulla tematica di questa Tavola rotonda, occorre tentare una definizione al tema di pace ed a quello di preghiera.
Per quanto riguarda la pace, vorrei qui citare la definizione — certo complessa — che il Movimento internazionale della Croce Rossa e della Mezzaluna Rossa ha deciso all'inizio degli anni 80 del secolo scorso, dunque ancora in piena guerra fredda. Vi si dice che la pace non può essere intesa come semplice assenza di guerra, ma che è piuttosto un processo dinamico di collaborazione fondata sulla libertà. sull'indipendenza, sulla sovranità nazionale e l'uguaglianza e sui diritti umani, ma soprattutto su una giusta ripartizione delle risorse per soddisfare le necessità dei popoli.

Dobbiamo qui aggiungere che se la pace deve diventare una realtà nel nostro mondo, deve essere fondata nel cuore e nello spirito della gente.

Nello stesso modo Ralph Bunche, che fu Premio Nobel per la Pace nel 1950, disse nel suo discorso di Oslo Peaceis no mere matter of men fighting or not fighting. Peace, to have a meaning for the many who have known only suffering in both peace and war, must be translated into bread or rice, shelter, health and education, as well as freedom and human dignity a steadily better life. If peace has to be secure, long-suffering and long-starved forgotten peoples of the world, the undernourished and the under-privileged must begin to realize, without delay, the promise of a new day and a new life. Non ci può dunque essere pace senza sviluppo.

Un altro Premio Nobel, l'Arcivescovo Desmond Tutu del Sudafrica disse nel 1984 nello stesso senso Because there is a global insecurity, nations are engaged in a mad arms race spending billion of dollars wastefully on instruments of destruction, where millions are starving. [oggi le spese militari globali nel mondo sono di 1.600 miliardi di $] and yet - continua l'Arcivescovo Tutu - just a fraction ofwhat is spended so obscenely on defence would make the difference on enabling God children to fill their stomachs, be educated and be given the chance to lead fulfilled and happy lives. Enough is enough: God created us for fellowship! God created us so that we should forra the human family existing together, because we were made for one another. Così il passo sullo spirituale è stato fatto.

Dicevamo nell'Appello di pace di Sant'Egidio del 2010 che questo mondo ha bisogna di anima. Ma soprattutto ha bisogno di pace. La pace è il nome di Dio. Non è qualcosa di superficiale. Chi usa il nome di Dio per fare la guerra e per giustificare la violenza va contro Dio.

E' quanto dicevamo già nel 1999 nell'Appello Spirituale di Ginevra - al quale hanno partecipato tutte le denominazioni religiose, monoteistiche e no, presenti a Ginevra e la società civile internazionale dicendo che siccome le nostre religioni o le nostre convinzioni personali hanno in comune il rispetto della dignità mumana, l'invocazione di una forza religiosa o spirituale per giustificare la violenza di ogni genere, non può e non deve essere tollerata. Né é ammissibile di riferirsi ad una forza religiosa o spirituale per giustificare in qualsiasi modo discriminazione od esclusione.

Eccoci quindi in pieno nella preghiera: questa unione intensa con l'Altissimo. Occorre ricordarci che Madre Teresa diceva più riceveremo nel silenzio della preghiera, più daremo nella vita attiva. Lo sappiamo: Dio è amore e niente è più responsabile che di pregare.

Ho già citato l'anno scorso in questo incontro il Manifesto del 1692, trovato nell'antica Chiesa di San Paolo a Baltimora che si apre con le parole Desiderata va serenamente in mezzo al rumore ed alla fretta e ricorda quanta pace ci può essere nel silenzio. Ma pregare nel silenzio significa inanzitutto di dare il tempo all'Altissimo di parlarci, di indicarci la via da seguire anche per fare trionfare la pace. Dio deve avere la possibilità di indicarci quanto attende da noi. Dobbiamo saperci rilasciare per ascoltarlo a fondo. Del resto far silenzio interiormente non è una caratteristica solo dei profeti, né dei maestri di spiritualità. Ciò è possibile a noi tutti; è il frutto di un esercizio semplice, universale che è presente in quasi tutte le culture.

E' cosi che si deve pregare per la pace, di preferenza in silenzio, avendo presente la Regola d'oro non fare agli altri quello che tu non vuoi che venga fatto a te, che già Confucio —nel sesto secolo a.C. — scriveva così. Ritroviamo la Regola d'oro nel Cristianesimo, nel Giudaismo, nell'epopea Indù Mahabharata, nel Buddismo e nel Islam, dove un hadith del Profeta dice Nessuno fra di voi è veramente credente, se non desidera per suo fratello, quanto desidera per se stesso.

Io ritengo la Regola d'Oro sia la radice della pace, anche perché incita a non rispondere alla violenza con la violenza. Budda insegnava per esempio cosi Anche se ti si picchia con la mano, con un bastone o con un coltello, il tuo stato d'animo non deve cambiare, non avrai cattivi pensieri, risponderai con compassione ed amore e senza nessuna collera. La preghiera deve anche rinforzarci nel resistere alla tentazione della vendetta: Gandhi diceva che la migliore vendetta è il perdono. La pace dipende certo dalla giustizia laica che è riparazione dell'ingiustizia subita, ma non può realizzarsi senza riconciliazione e perdono. E perdonare — ciò che è un atto individuale e personale — non significa dimenticare.

Concluderei questa breve relazione sulla Preghiera radice della Pace, con un affermazione di Fede, in quanto non ci può essere preghiera senza credere nell'Altissimo: Credo in Dio, malgrado il suo silenzio ed i suoi misteri, Credo che è vivo, malgrado l'esistenza nel nostro mondo di male e sofferenza; Credo che sia all'origine dei mondo per la vita e la gioia di vivere, malgrado i limiti della nostra ragione ed i limiti del nostro cuore.