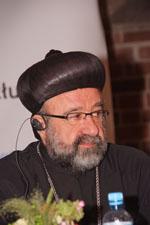 Metropolitan of the Syrian Orthodox Church
Here we meet again in the heart of the Black Forest in Munich, to fulfil the mission of Peace in our topsy turvey world, and think collectively how we can serve humanity and work towards the mission of Peace. Our Lord Jesus Christ beatified peacemakers and elevated them to be the children of God.

We are gathering under the axiom "Bound to Live Together".
We are bound to live together and are destined to co-exist with an inborn impulse to dialogue. Inter-human communications are encouraged by all religions, cultures and civilizations known on our planet, so man can live with his fellow humans in a state of a peaceful synergy.

This year is a very important juncture in our march for peace, for it is the Silver Jubilee of our inaugural meeting at Assisi in 1986. The Jubilee challenges us to reflect on those twenty five years. They were brimming with fruitful experiences. It helped representatives of world religions and cultures to strengthen their faith and enrich their enthusiasm and enhance their collective vision.

The march which set off from Assisi proved to be successful. It fulfilled the dream of the late Pope John Paul II, that nations should live in peace and harmony under the roof of humanity, as asserted by St. Paul the Apostle, who said:
1I therefore, a prisoner for the Lord, urge you to walk in a manner worthy of the calling to which you have been called, 2with all humility and gentleness, with patience, bearing with one another in love, 3eager to maintain the unity of the Spirit in the bond of peace. (Ephesus 4:1-3 ESV).

We were given this blessing, and we are bound to nurture and practise it. As we think and crave for the exemplary, mature and solid human who is honest in love who grows in everything. Not as juveniles who are often disturbed, easily influenced and drift with the wind, deceived and delusioned. (Ephesus 4:13-15)


(2)

As we are talking about Assisi and its legacy, I would like to go nostalgically back to the very day , to recall details of the events of the Day of Prayer called by the late Pope John Paul II. He joined representatives of world religions, who embarked on treno della pace (the train of Peace) in Rome Stazione Centrale to travel together to the city named after St. Francis of Assisi, who is renowned for his prayers and dialogues, and his call for rapprochement between nations and religions. Peace Prayers were said, which were attributed to St Francis and were discovered written on the back of a holy card of St. Francis in November in 1915. 1915 was a special year for us the children of the Syrian Orthodox church of Antioch. We call that year: Sayfo, the year of the sword, a holocaustic year during which we lost 30 times as many innocent people as 9/11.

St. Francis's prayers taught us the real meaning of the absence of Peace. I quote:
Lord, make me an instrument of your peace;
where there is hatred, let me sow love;
when there is injury, pardon;
where there is doubt, faith;
where there is despair, hope;
where there is darkness, light;
and where there is sadness, joy.
Grant that I may not so much seek
to be consoled as to console;
to be understood, as to understand,
to be loved as to love;
for it is in giving that we receive,
it is in pardoning that we are pardoned,
and it is in dying [to ourselves] that we are born to eternal life.


(3)

Those of us who were at Assisi would recall other memorable and moving moments such as the multilingual prayer for peace, which was recited by leaders and representatives of world religions at the central piazza of Assisi.

A quick review and assessment of the event by Cardinal Wellibrands (then the Head of the Secretariat of Promoting Christian Unity) showed how all Christian leaders were fully involved, committed and wished that their prayers for Peace at Assisi, with other religious leaders, would have an impact on the consciences and decisions of those who influence War and Peace in our world, and will heed the appeal of His holiness the Pope of Rome for a 24 hours ceasefire. Indeed the 24 hour armistice, which was observed by all warring parties and belligerent groups all over the world, was a trophy for us all.
As one representative put it: It is a victory and triumph for the power of prayer and a sign that peace is possible in the world.

Among the events of the Day of Prayer for Peace, which I participated in, was a meeting of the community of Sant Egidio. It was attended also by the Maronite Patriarch His Beatitude Mar Nasr Allah Botros Sfeir. We did not know that the community of Sant Egidio would be instrumental in this ecumenical task to uphold and maintain the momentum of Assisi by holding an annual prayer day for peace ever since to which world religious leaders are invited.


(4)

Another crucial and memorable peace event was the second meeting in Assisi held on 24th January 2002, presided over by the late Pope John Paul II, which followed shortly after the 9/11, 2001, violent attack that shook the world causing the death of several thousands of innocent people.

I am honored to be among religious leaders, as a representative of the Patriarch of Antioch His Holiness Mor Ignatius Zakka I Iwas. We witnessed the first and second Assisi and every Sant Egidio Prayer day for the last quarter century. Therefore, I can testify without any reservation that Sant Egidio deserves all the praise and congratulations. Without their determination and resolve such continuity for the march of Peace would not have been possible or effective.


(5)

What can be said about the achievements of the meeting of the Community of Sant Egidio?

First, Prayers for peace during the Cold War era were instrumental in building a strong and robust bridge between the different world religions. They are proof that supplication to the creator is a common denominator. This direct relation between human and God is private, personal and unshakable.

Dialogue is the only bond that links sincere and free will people, despite the differences in their views and persuasions on issues related to human rights and humanity. If you close the door to dialogue, you will be, in effect, facilitating the denial of the existence of God and any possibility for the co-existence and fraternity that help us brothers and sisters to enjoy the abundant blessings of our creatures. The obvious results of declaring war against each other are frightening, as it will destroy God's creation. Humanity reached a point of war fatigue, and we are all exhausted by the needless and endless wars around us. If the aim of our prayers is peace, then it is the loftiest of goals that we are all aiming for.


I come from the Middle East, where, for decades, we have lived our life under the ghost of war and martyrdom. We have witnessed every painful turn and twist of the perpetual Palestinian- Israeli conflict, in which every type of lethal weapon of human destruction were employed causing multitudes of human deaths and suffering. Six decades later, the result is a fatal stalemate.

The scripture presents us with a fitting parallel of the evil under the Sun.
"Again I saw all the oppressions that are done under the sun. And behold, the tears of the oppressed, and they had no one to comfort them! On the side of their oppressors there was power, and there was no one to comfort them." (Ecclesiastes 4:1-3 ESV).

We, in the region, have become convinced that there are no winners or losers in conflicts. Regardless of your affiliations, age and gender, you are destined to suffer fragmentation and division, lose childhood and livelihood, forced to migrate and diasporized. Inadvertently, we all contributed to the continued suspension of the role of civilization. Involuntarily, we all become part of this crime against humanity, which has no relation with people of free conscience and is an affront to God the creator.
Second: The thought of Pope John Paul II in inviting leaders and representatives of religions from all over the world was based on the way Jesus Christ thought of Peace. When Jesus sent, in couples, his 72 disciples to different cities of the old world, He reminded them: (1After this the Lord appointed seventy-two[a] others and sent them on ahead of him, two by two, into every town and place where he himself was about to go. 2 And he said to them, "The harvest is plentiful, but the laborers are few. Therefore pray earnestly to the Lord of the harvest to send out laborers into his harvest. 3Go your way; behold, I am sending you out as lambs in the midst of wolves. 4 Carry no moneybag, no knapsack, no sandals, and greet no one on the road. 5Whatever house you enter, first say, 'Peace be to this house!' 6And if a son of peace is there, your peace will rest upon him. But if not, it will return to you.) (Luke 10:1-6RSV).

Jesus assured his disciples that his Peace is the eternal life; His Peace is not for the tranquillity of human on earth. That was the belief of the late Pope John Paul II that Peace in Christianity transcends all understanding, a visionary peace has its bases in heaven. Therefore, those with a receptive heart and conviction for such peace, the Peace of the Lord, will bring inner comfit to themselves, and will bear fruits beneficial to all. Those who accept such peace will be considered the children of God. Those who deny this sort of peace, will be in defiance of the will of God in heaven and the teaching of Jesus Christ on earth. This is what was envisaged as an outcome from the 1st Assisi meeting.

Furthermore, it was apparent that, in response to the call of the Late Pope John Paul II, Peace triumphed in most regions of the world. Dialogues were initiated and advanced among warring parties who endeavoured to end hostilities.


(6)

It was no surprise that during his Primacy, Peace was on the top of the list of his priorities.

As a disciple of Jesus Christ, he would have loved to reiterate the Angelic Christmas message to the Shepherds: "Glory to God in the highest and on earth peace and Good hope among man".

Glory to God in the highest: is the announcement of the greatness of heaven.
On earth peace: The descent of the Prince and founder of peace to fill our land with everlasting peace.
Good hope among man: What humanity experienced and is experiencing through the Christian faith and the manifestation of the God of peace to the human race.

It can be said with certainty that the echo of the twenty five-year-old message of Assisi still resonates in the hearts of decision makers and enlivened their thought, vision and action.

Prayers for peace have become the solid bridge that bond world religions and Peace is the way which leads to security and stability among nations and states. Consequently, the march for peace that was initiated by Pope John Paul II in 1986 reinforced by his open and charismatic character, has its impact on the dynamic of interaction among world religions, cultures and civilizations and helped to make the concept of peace a permanent item in the agenda of decision makers.

(7)

Therefore, it is an anticipation rather than a surprise to hear the decision of His Holiness Pope Benedictine XVI to recall again leaders of world religions to gather and celebrate the Silver Jubilee of Assisi and to renew their commitments and obligations to a peaceful world.

So the pilgrims of rights and pilgrims of peace will meet again around His Holiness Pope Benedictine XVI, and embrace each other in Rome, then in Assisi during the last week of October 2011. They will witness and testify collectively that Religion is the source and spring of unity and peace, and has nothing to do with division, conflict and violence.

To confirm that what was initiated by Pope John Paul II was and still is vital in propagating the culture of peace in the world. The beacon of Peace that was lit in Assisi in 1986 is still glowing in the hearts and minds of all.

The community of Sant Egidio made the continuity of the march for peace possible.

May God bless all the efforts of those who worked and are working to consolidate peace in the world.