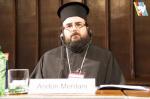 Orthodox Metropolitan Bishop, Church of Albania
Every time we turn our focus on the subject of family we feel ourselves on one side familiar with it, since we all in one way or another have a very strong connection and experience with it, as we all come from such a form of human organization, and on the other side we all feel insecure and very problematic as we approach the very wide and complex issues that come with it. So there is this mixture of feelings, and rightly so, since most of us come from families where we were born and go toward the new families where we ourselves are the protagonists and will continue to do so until the end.
This double attitude and feelings towards the notion of family was so true from the beginning of the human existence. According to the Bible the first man and woman where joined together in the notion of family after their fall of committing the first sin and where cast out of the garden of Eden or the "Paradise" as we know it (Gen 4:1). This shows us two immediate implications; First, the coming together of man and woman as husband and wife, showing that with the fallen status of human being God headed them towards creating a family as we see the first children being born and secondly, it indicates that in a fallen world the family will continue to be a bonding join for the humans and their continuation and heritage on earth. So we see how sin and death which entered the world and the family, is being conquered by love and life in child-bearing and furthermore by the promise of the seed (Christ) that will conquer the evil itself in the end (Gen 3:15).
Since the beginning of its history the human family was marked by tragedy in conflicts and rivalry, as we see in the first born Cain who killed his own brother because of his envy. This gave to Cain the "mark" of a brother killer and in one way or another this is the mark that all human family is caring till today in every conflict and quarrel we see in our families and around us (Gen 4:15). As we believe in the Christian faith, sin has become part of our human nature, it has corrupted its natural abilities to behave in a good and excellent manner, tending more towards sin and its passions than to the virtue and its blessings, as Saint Paul describes it: "Now then it is no more I that do it, but sin that dwelleth in me" (Rom 7:17). It shows how the family has to face and deal with the selfish and egoistic attitude that is in every member of the family and to overcome them.
It is no wander than, as we look at things from this perspective, that we find on the subject of family this mixture of feelings and attitude towards it, knowing its blessings and its challenges as well as its problems. Especially today, in a world of many rapid changes altogether and in a world wide scale, in a variety of ideas and behaviors, customs and tendencies to see the family also to straggle on keeping its identity and meaning and also its function in the society. More and more the families are to face challenges that come from outside as well as from inside, trying hard to find the balance and keep its focus and reach its goals. With no doubts, faith in God and religious communities have played and will continue to play a major role in supporting and sustaining the family and with it the whole human society.

Coming to more practical terms in talking about family in the Orthodox Christian faith and its tradition, the family has been the focus of many and continuously concerns and occupations, since it has been always considered as the nucleus of the Church and the whole society in general. As saint John Chrysostom puts it in one of his speech on the topic of family and marriage by saying that: "Because when harmony prevails, the children are raised well, the household is kept in order, and neighbors, friends and relatives praise the result. Great benefits, both for families and states, are thus produced. When it is otherwise however, everything is thrown into confusion and turned upside down." And so it is, since all the members of the Church and society come first and foremost as "product" of their families as well as from other human institutions and organizations such as school, work, friendship etc. When the conditions for education and well upbringing of the children are in a good standard this definitely will improve also their performance in every other aspect of the society as well as in the Church and vice versa.
In this perspective, much of the focus in the Church has been on the role of the husband and wife and their relations among them as well as towards their children and grandchildren. As regards to the couple, much stress has been emphasized on the roles that each one has and have to play without complains and without shunning. This was a concern since the beginning of the Christianity and the Church, when Jesus and the Apostles gave the direction and the meaning of what does it mean to be a husband and wife and what are their relations. To make more clear the necessity and the importance of a good family life and relationship in the family and between the couple many examples and figurative forms where given and described as we can see some of them.

Husband and wife are called to love and respect each other by reminding them the deep connection that exists between the two of them, as how God made the first woman Eve by the rib of Adam, as part of him, so he must love her and she must honor him as saint Paul express it in the letter to Ephesians: "So ought men to love their wives as their own bodies. He that loveth his wife loveth himself. For no man ever yet hated his own flesh; but nourisheth and cherisheth it, even as the Lord the church: For we are members of his body, of his flesh, and of his bones. For this cause shall a man leave his father and mother, and shall be joined unto his wife, and they two shall be one flesh" (Eph. 5:28-31).
On the other hand the relation between husband and wife is compared to that of Christ and His Church, where Christ is described as the bridegroom and the Church as His bride, or Christ as the head and the Church His body, giving in this way the deep and strong connection between them and furthermore, honoring the marriage so high as to compare it to such an esteem and sacred relation of God and men, divine and human. This is so true that the marriage is seen as a blessed way through which husband and wife will find their salvation by loving and respecting each other and raising in Godly manner their children. In this way marriage and family is often compared to a small church, where prayers, thanksgiving and interactions are to be given to God by the all family together, in reading and discussing the holy scriptures and other spiritual writings, offering love to others in sacrifice in order that every member of the family to be edified and headed to perfection. For that it is of no surprise when Saint Paul considers marriage and the family as "a great mystery" (Eph. 5:32).
The scriptures and the Church Fathers continuously urge the married couple towards a moral life of no defilement, by honoring their marriage in love, respect, trust, faithfulness, compassion, and tenderness among themselves and their children. Encouraging each one of them to understand their role and fulfill the obligations as St. Tikhon of Zadonsk (+1783) puts it: "The husband and wife must lay virtue, and not passion, as the foundation of their love, that is, when the husband sees any fault in his wife, he must nudge her meekly, and the wife must submit to her husband in this. Likewise when a wife sees some fault in her husband, she must exhort him, and he is obliged to hear her. In this manner their love will be faithful and unbroken, and thereby having mutually composed their happiness, they shall take pleasure in the virtue."
As we reflect on these issues on the topic of family we realize that these are not at all easy things to be achieved, since from the beginning, as we explained beforehand, the fallen human nature asks and seeks more for its selfish desires, making it not easy at all for a successful married and family life. That's why many emphasis is put on sacrifice as we talk about family life, where each one is called to offer himself or herself to the others, as Christ gave Himself for us. The family will not succeed if we run after pleasures and richness and leave aside the moral and virtuous life at a cost of losing that which might have been dear to us, our family and in the end our salvation. That's why it is of a great importance to guide our youth with the right understanding of what the family and married life is all about and what to expect from it, and not to get disappointed or depressed by the challenges faced as the married and family life starts.
In the Orthodox Wedding Service we sing, as we crown the couple, the hymn of the martyrs so to remind them of the sacrifices that they have to go through by baring good witness in the world of their faith and their family life, a witness that is compared to that of the martyrs of faith, so is their witness to the world of such an importance and meaningful.