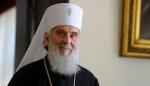 Patriarch of the Serbian Orthodox Church
Saluto il popolo che riempie di bellezza questa chiesa. Saluto Sarajevo dove vivono, oltre noi ortodossi, anche cattolici, musulmani, ebrei, come un popolo che porta il volto di Dio dentro di sé.
Il nostro dovere è baciare ogni persona nella quale si riflette il volto di Dio.
Dobbiamo amare anche i nostri nemici. Questo può chi porta Gesù dentro di sé.
Ringrazio Dio di essere in questa chiesa.
Mi tornano in mente le parole del salmo di Davide: "Come è bello e come dà gioia che i fratelli stiano insieme". E' vero. E' bello vederci vicini e uniti quando lo Spirito Santo scende su di noi chiamandoci ad essere fratelli e bambini di Dio. Dobbiamo amare gli esseri umani.
Prego tutti perché questa comunione spirituale si realizzi più spesso nella nostra vita e nel nostro tempo dove i valori umani sono spinti alla periferia e altre cose hanno preso il posto della fede.
Noi cristiani abbiamo l'obbligo di diffondere la Parola di Dio, la verità che abbiamo ricevuto, unico fondamento della nostra vita, anche verso gli altri popoli.
E' passato molto tempo dalle divisioni fra cristiani ma la casa divisa è destinata a distruggersi.
E' passato molto tempo e questo ci chiede di essere più vicini.
Abbiamo l'unico Vangelo che ci unisce.
Su questa verità dobbiamo costruire il nostro futuro.
Siamo membri di una comunità spirituale che abbiamo ricevuto.
A tutti quelli che hanno la libertà di continuare l'opera di Dio e ai rappresentanti delle diverse chiese faccio un appello: che Sarajevo non rimanga senza i cristiani.
Così salviamo quello che abbiamo ereditato e lo lasciamo alle generazioni che verranno.
Il Cristianesimo chiede amore per i vicini e per quelli che non sono cristiani.
E' questo che ci dà la caratteristica di essere cristiani.
Vi saluto e prego che il Signore ci dia la sua Pace. Ne abbiamo bisogno in questi tempi caotici.
Sentiamo che nella nostra vita abbiamo il dovere di vivere così.
Saluto tutti, il cardinale e tutti i presenti.
Prego il Signore che ci dia la sua pace.
Siamo qui per dare il nostro contributo alla pace.
Benedico tutti.
(Sintesi)