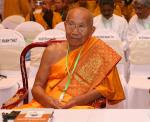 Supreme Patriarch of the Cambodian Buddhism
Signore e signori,

é un grande privilegio ed un onore essere qui con voi tutti.
Siamo qui convenuti per esprimere la nostra unità, la nostra solidarietà e il nostro sentirci in comunione con i nostri amici provenienti da tutto il mondo a questo meeting. Lo ripeto sinceramente è per me un privilegio essere qui. Estendiamo a voi la nostra più profonda gratitudine per questo felice incontro al quale siamo arrivati da varie parti del mondo. Proveniamo da culture differenti ed abbiamo visioni del mondo diverse. Tuttavia, siamo una cosa sola nella nostra comune appartenenza al genere umano, pur parlando lingue e dialetti diversi e con differenti accenti. Siamo una cosa sola nella lingua del cuore.

Ci riuniamo per il bene delle persone di buona volontà, qualsiasi sia lo spirito o la tradizione religiosa cui appartengono. Cerchiamo un mondo in cui tutte le creature possano vivere nella gioia e in pace. Proprio condividendo le nostre diversità e differenze iniziamo a sentire la bellezza della nostra umanità comune. Crescendo nell'amicizia e nella comprensione reciproca realizziamo la nostra unità e la nostra comunione. La nostra unità, in maniera semplice, la possiamo trovare in tutti gli insegnamenti religiosi e da lì possiamo apprenderla. Sì, essa trova radici nella mente, una mente colta ed un cuore gentile ci portano a stare insieme e ci fanno rimanere vicini.
Dal punto di vista del Buddismo, la mente è il precursore, la parte più importante che aiuta a prendere le decisioni nella vita di ogni giorno. Negli insegnamenti buddisti è chiaro che l'età non è la prima preoccupazione, la mente è la cosa più importante. Se una persona vive cento anni con una mente malvagia non è meglio di una che vive anche un solo giorno ma ha una mente ben disposta.

Allo stesso modo è un cuore gentile che ci permette di accogliere e di celebrare le nostre diversità e differenze.
Si dice che noi buddisti dobbiamo trovare il coraggio di uscire dai nostri tempi ed entrare nei tempi dell'esperienza umana, tempi che sono pieni di sofferenze. Buddha ci ha insegnato che la sofferenza ci può educare alla compassione. Compassione per la sofferenza dei nostri simili è di solito il primo passo sulla via della pace. La compassione deve esprimersi in azioni sagge, la saggezza e la compassione, infatti, camminano di pari passo. Siamo profondamente toccati dalle sofferenze che le persone hanno patito in ogni parte del mondo, è necessaria saggezza per poter evitare che ciò possa accadere di nuovo. Quello che apprendiamo in questi giorni ci accompagnerà per sempre.

Come ci ha insegnato Buddha "il mondo è guidato dalla mente. E' condotto da una parte e dall'altra dalla mente. La mente è quel fenomeno sotto il cui potere avviene ogni cosa". Fintanto che la mente è ben educata e controllata in maniera profonda, si avranno pace, prosperità e felicità. Dunque, gli esseri umani sono legati l'un l'altro indipendentemente dall'età. In Cambogia si dice "Il vecchio bamboo genera il nuovo bamboo e di conseguenza quest'ultimo lo sostituirà. Tra i giovani e gli anziani c'è una grossa alleanza perché sono pilastri importanti della società che sostengono ogni cosa per il bene del mondo.
Possiamo diffondere la bellezza e la saggezza dei grandi insegnamenti religiosi attraverso le nostre azioni di saggezza e compassione.

Possano tutte le creature vivere nella gioia e in pace.

Vi ringrazio per la vostra attenzione.