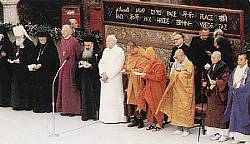 The Spirit of Assisi:
25 Years of Prayer for Peace
Twenty five years ago, on 27th October 1986, John Paul II summoned a World Day of Prayer for Peace, in Assisi, involving the representatives of all major world religions. Among them where 50 representatives of the Christian Churches (in addition to the Catholics) and 60 representatives of other world religions. It was the first time in history that such a meeting took place.
The intuition of the Pope was simple and profound: to bring together the faithful of all world religions in the city of Saint Francis, emphasizing prayer for peace, one beside the other, facing of the horror of war. On that occasion the Pope said: "The coming together of so many religious leaders to pray is in itself an invitation today to the world to become aware that there exists another dimension of peace and another way of promoting it which is not a result of negotiations, political compromises or economic bargaining. It is the result of prayer, which, in the diversity of religions, expresses a relationship with a supreme power that surpasses our human capacities alone."His appeal was also heard by the "world": for an entire day weapons remained silent.

In his conclusion Jean Paul II exhorted: "Let us continue to spread the message of peace. Let us continue to live the spirit of Assisi."
The Community of Sant'Egidio picked up the heritage of that Day, and continued to live and promote the spirit of Assisi – friendship, prayer and commitment to peace – during the annual Meetings of Prayer for Peace, from 1987 up to the last Meeting in Munich, last September, bringing together in this pilgrimage for peace, an increasing number of men and women of different religions, united by the desire to construct peace.
On the occasion of the 25th anniversary of this historical day, the Community of Sant'Egidio organizes moments of commemoration and prayer in different places.


AGENDA:
Roma, Rome, 24th October: Presentation of the book "Lo Spirito di Assisi. Dalle religioni una speranza di pace" ►
Video:
ITA - Assisi, 27 ottobre 1986 ('6,12) ►
ITA - Lo Spirito di Assisi ('19:46) ►