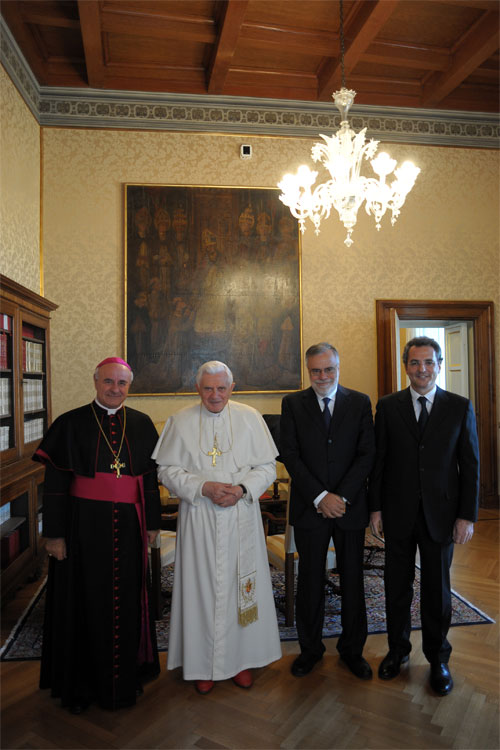 Pope Benedict XVI today received in audience prof. Andrea Riccardi, founder of the Community of Sant'Egidio, President Marco Impagliazzo, H.E. Msgr. Vincenzo Paglia, Bishop of Terni-Narni-Amelia.
The audience was held on the eve of the Interreligious prayer for peace in the "spirit of Assisi" to be held in Barcelona next 3 to 5 October. This year's meeting is entitled "Living together in a time of crisis. Family of God, family of nations".
At the audience, were also addressed issues of poverty in Europe and worldwide. Focus was put on major social issues that emerged following the economic and financial crisis of recent years and the increasing poverty in Europe.
One of the issues mentioned was Africa with reference to the major programs of solidarity of the Community in Africa. The Dream programme , which takes care of 90,000 people with AIDS in 10 African countries and the BRAVO (Birth Registration for All Versus Oblivion) programme for civil registration of African children.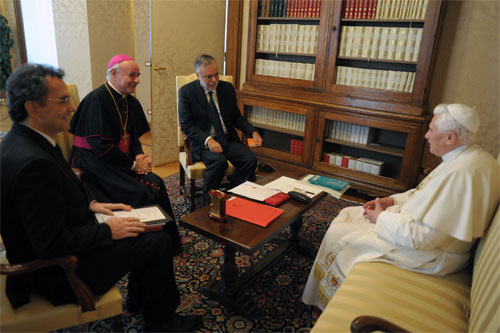 One every two children in Africa is not registered at birth, is invisible and therefore has no rights or protection.
This year the Community has achieved recording civil registration of more than 3 million people in Burkina Faso.
The BRAVO programme is now active in other African countries.