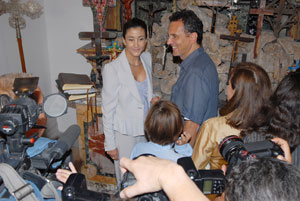 Sunday, August 31 – Ingrid Betancourt, on a short visit to Rome, met the Community of Sant'Egidio, whom she wished to thank for the work done on her behalf during the long years of her imprisonment.
Following a short meeting with some Community representatives in the "Peace Room", venue of the negotiations which brought peace to Mozambique, Ingrid Betancourt visited the Church of Sant'Egidio in the company of the Community's Chair, Marco Impagliazzo.
Standing before the Altar of Crosses, where the Community honors the remembrance of the pain and suffering of so many people worldwide, the visited concluded with a moment of intense prayer.