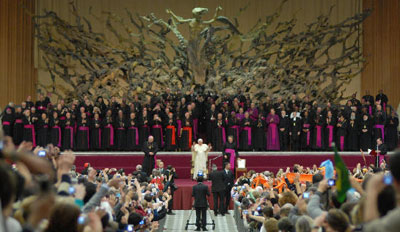 It has been held in these days in Rome the XI International Meeting "Christians and pastors for the Church of tomorrow" in which bishops friends of the Community of Sant'Egidio took part, coming from different countries of Europe, Africa, Latin America and Asia, on the subject: "rue friends of God, authentic friends of humanity".
Wednesday 11 February, after having celebrated the Eucharistic Liturgy by the grave of the apostle Peter, the bishops were received in audience by the Holy Father Benedict XVI, who addressed them an affectionate greeting: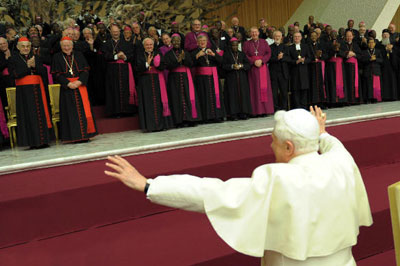 "I greet with affection the Italian-speaking pilgrims, particularly the Bishops who came for the meetings promoted by the Movement of the Focolari and by the Community of Sant'Egidio.
Dear Brothers in the Episcopate, I am happy of this opportunity that is offered to you to confront ecclesial experiences from different areas of the world, and I wish that these days of prayer and of reflections can bear rich fruits for your communities".
Link:www.vatican.va
Photo: kind concession of "L'Osservatore Romano"

The Eucharistic liturgy by the grave of the apostle Peter