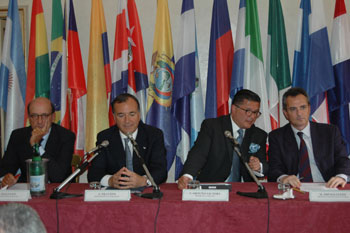 Yesterday, in Rome, a Framework Agreement for cooperation between the IILA (Istituto Italo - Latin American) and the Community of Sant'Egidio for the development and implementation of joint cooperation projects in Latin America and the Caribbean was signed.
The Community of Sant'Egidio has been present since about 30 years in the sub continent, engaged in helping the poor, in promoting peace and democracy and against the widespread violence.
The Agreement, which is to seal a long and fruitful cooperation, was signed by Ambassador Giorgio Malfatti di Monte Tretto, IILA Secretary General and by Prof. Marco Impagliazzo, President of the Community of Sant'Egidio, in the presence of the ambassadors of the Latin American Countries. The Italian Minister of Foreign Affairs, Mr Franco Frattini, was present as witness of honor.