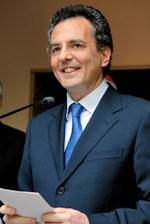 Marco Impagliazzo (Rome 1962), is Professor of Contemporary History at the University for Foreigners Perugia. He has been Chairman of the University Board since 27th March 2014.

Additionally, in academic year 2013-2014, he has held a course at the National School of Administration on Religions and Immigrant Cultures in Italy and Europe: a Comparison of Reality and Models.
He has been President of the Community of Sant'Egidio since 2003.

He was appointed Consultor of the Pontifical Council of Culture in 2009.
Since 2012 he has been Consultor of the Pontifical Council for the Pastoral Care of Migrants and Itinerant People. In October 2012 he was Auditor at the Synod of Bishops on New Evangelization.

He was Auditor at the Synod of Bishops on the Middle East in October 2010.
In November 2003 he was awarded the National Minturnae Prize for essays, for his book on the Armenian massacre. In January 2011 he received the Hrant Dink Journalistic Award for freedom of information. In March 2012 he was conferred the Ducci Peace Prize for the promotion of dialogue among religions and cultures.

Since 1987 he has been among the organizers of the International Meetings of Prayer for Peace of the Community of Sant'Egidio.

In years 1994-1995 he was among the protagonists of the work for peace in Algeria of the Community of Sant'Egidio, leading to the signature of the Rome Platform for a peaceful political solution to the Algerian crisis.

From January 2012 to April 2013 he was advisor for religious affairs of the Italian Minister of International Cooperation and Integration Policies, Andrea Riccardi.

His field of scholarly expertise is the Catholic Church in the 19th and 20th centuries and, more generally, religion in Europe and the relations between Christianity, Hebraism and Islam in the Mediterranean area in contemporary times. He has devoted particular attention to the events of Algeria from the end of French decolonization to the time of independence. In the framework of his studies on the history of the Mediterranean, he has dealt with the "Armenian issue" in the Ottoman Empire during World War I. His recent studies have focussed on the contemporary history of Rome, from a religious and civil perspective, and the Pontificate of John Paul II. Professor Impagliazzo has written a number of articles for newspapers and essays for specialised historical and religious reviews.

In more recent times, his studies have focussed on issues connected to immigration and integration.

[September 2016]