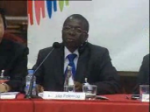 [1963, Laine (Lola), Guinea]
He's the National responsible of the Community of Sant'Egidio in Guinea, one of the poorest countries of Africa. He coordinates the efforts of more than 1,000 people of different ages who are voluntarily engaged in several services addressed to the most difficult realities of the country: in particular the members of the Guinean Community of Sant'Egidio visit the prisons to improve the living conditions of prisoners and to set them free when detention is too long and unfair.
In Guinea, the Community of Sant'Egidio is also committed to improve the difficult living conditions of children.
Kpakilé Felemou is as well one of the coordinators of the DREAM program for prevention and treatment of AIDS, launched in the country in 2006 and based on a model already experienced in other African countries.