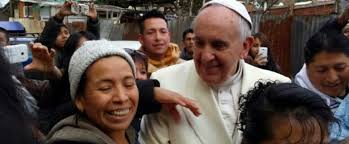 Sunday, February 8, Francis Pope visited the parish of Pietralata, a historic district of the Roman suburbs. Before coming to church, he stopped in a settlement of shacks, home to immigrants from Latin America, Ukrainian and other poor people, where friends of the Community of Sant'Egidio, who visits them regularly, bringing them food, blankets and warm of friendship. The unexpected visit of the pope sparked an overwhelming joy. Among the shacks has prayed the Lord's Prayer in Spanish, in a small circle, almost embraced the pope.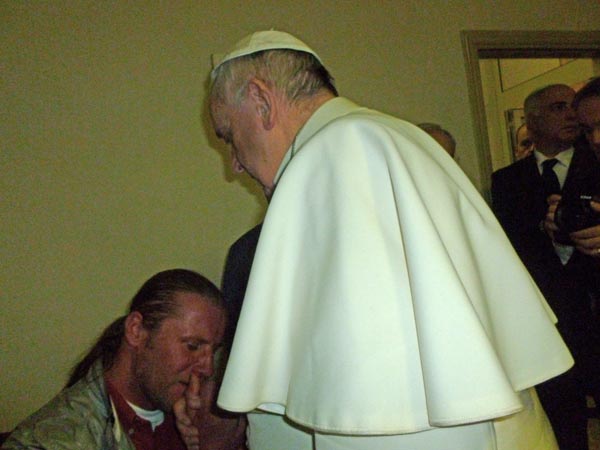 Later visiting the parish, the Pope has stopped to all: people from the neighborhood kids, and even a group of homeless people living in the surrounding area of the parish. Even they are friends of Sant'Egidio. Twice a week, in the Pietralata and Tiburtina, community groups bring dinner to the homeless. There is a shower bath service, having Christmas lunch together for some years.
The meeting was touching. Some of them knelt before Pope Francis, asking his forgiveness for the hard life they have led.
The pope told them: "Thank you for your generosity, for your patience, thanks for not turning off and hope for the testimony which carried out in solitude, the cross.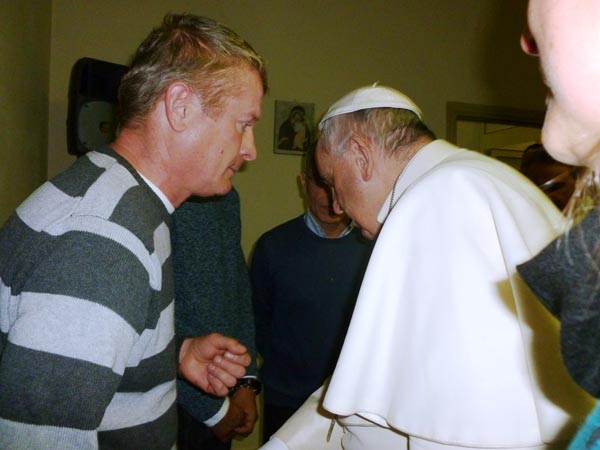 Many times, the fact that people do not know your name and calls you "the homeless", ye bear it ... this is your cross. But there is something in the heart of you: the Holy Spirit. We see the fire, then we see the ashes and we think that everything is over, there's nothing left but if it is a bit 'of wind, if we make a gesture on the ashes, is the focus. Inside many ashes of suffering and loneliness is the fire of the Holy Spirit, is the embrace of God's love.
Because the Lord allows this cross?
He allowed his son first and Jesus understands me and I understand you well and in my poverty ... ..with all my heart I am close now and bless the Father, the Father of us all. "
At the end, after having blessed the poor and their friends, Pope Francis ask to pray for him.
Waiting for pope Francis