Click of the Photos to Enlarge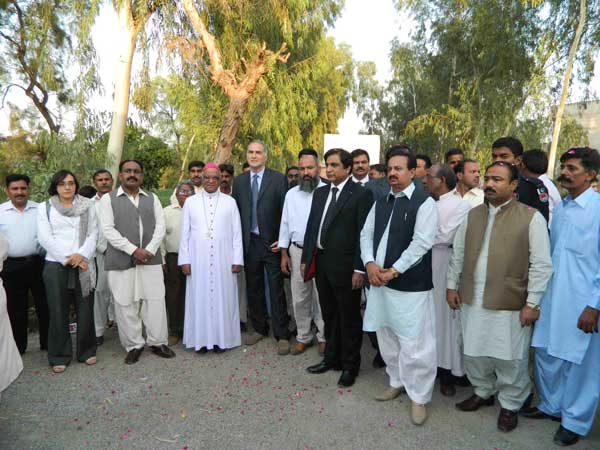 Thanks to the help of the Community of Sant'Egidio the Catholic Hospital "Fatima Hospital" in the city of Sarghoda, in Pakistan, was inaugurated after three full years of renovation of the whole building.The inauguration ceremony was held at the presence of the Bishop of Islamabad-Rawalpindi, mgr. Antony Rufin, of the Advisor of the Prime Minister for Minorities, dr. Paul Bhatti, and the Local city authorities.
The Hospital had been built in the sixties by the sisters "Missionshelferinnen" a German religious congregation from Wurzburg. Since the very beginning the hospital had been important for both Christian and Muslim patients and especially for the poorest families coming from the rural arear of the district.
In 2009 Azeem Bhatti, The leader of the Comunità di Sant'Egidio in Sarghoda, was nominated executive director of the hospital in the effort of trying to solve the difficult situation the hopsital was facing
Since the first surveys of the structure we realized the need to start major renovations in every part of the building, from the floors to the complete recostruction of the room, corridors, restrooms to the complete reconstruction of the operating room.
| | |
| --- | --- |
| | |
| The New Corridors | The Entrance of the Hospital in 2011 |
The Community of Sant'Egidio decided to support the renovation of the Fatima Hospital, strongly believing that it is crucial to guarantee to all the rigth to healt and care. Special care was given to the renovation of the obstetrics ward were anew room for the preterm newly born may receive adequate tretment.

The inaugration was a true momnt of celebration and it represented the beginning of a new season for the hospital. in the hope ot being able to better the service that are offered to the patients. AIt is a sign of hope, a sign of future and coexistence for the city of Sarghoda and for all Pakistan.
| | |
| --- | --- |
| | |
| The Ceremony of Inauguration | The Commemorative Plaque |