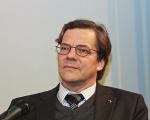 Markus Dröge (born 16 October 1954 in Washington, D.C.) is a German theologian and bishop of the Evangelical Church Berlin-Brandenburg-Silesian Upper Lusatia (EKBO).

Dröge studied Theology at the universities of Bonn, Munich and Tübingen. After completing a doctorate in Theology in 1999 he taught Systematic theology at the University of Koblenz and Landau. He was elected bishop by the Synod of the EKBO on 15 May 2009. On 14 November 2009 he was invested as bishop of the EKBO at St. Mary's Church, Berlin, succeeding Wolfgang Huber, who retired. Upon being elected Dröge was superintendent of the Koblenz district in the Evangelical Church in the Rhineland since 2004. He was succeeded by Rolf Stahl in 2009.

Dröge is married and has three children.

[September 2016]