Buenos Aires (Argentina) - "We stand in solidarity!" This appeal was made by the children of the Country of Rainbow during the spring feast.
October 23, 2010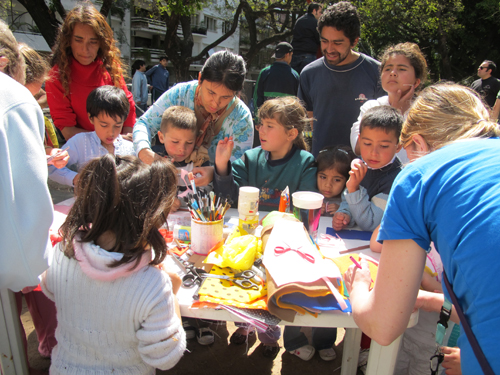 Saturday, October 23, the children of the Country of Rainbow of the Community of Sant'Egidio in Buenos Aires, have achieved the "Second Spring Feast: we stand in solidarity!" with the aim of gathering children, teenagers and their families proposing them a meeting in a climate of solidarity and joy.

The feast took place in the central Piazza Francia, with different activities: games, workshops of puppets, crafts, music and physical expression, and a painting competition for children.

During the feast, the children and teenagers of the Country of Rainbow also had the opportunity to speak about their solidarity activities: the visit to the elderly in Rawson institute and the friendship with them and the commitment to collect aid for earthquake victims in Haiti.

Also some Haitians living in Argentina took part to the feast, giving their testimony of the difficult situation that their countrymen are still living.

The event was also an opportunity to start collecting toys in preparation for Rigiocattolo, the eco-solidal initiative to support the reconstruction of Haiti, to be held in Buenos Aires on 20 and 21 November at Plaza Guemes (y J. Salguero Mansilla) between 11 am and 6 pm.