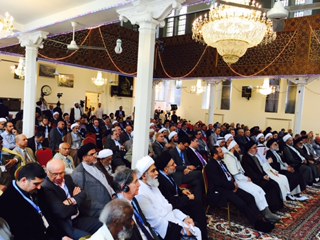 Marco Impagliazzo, President of the Community of Sant'Egidio, took part in the conference "Dialogue & Peaceful Coexistence" organised by the Shiite Foundation Al Khoei, on the occasion of the twenty-fifth anniversary of its birth.
Bringing the greetings of the Community, Impagliazzo stressed the importance of interreligious dialogue and the building of a culture of living together.
A land of fruitful collaboration that took an important step already in 2014 during the visit of a delegation of the Community of Sant'egidio to Grand Ayatollah al-Sistani in Najaf, in Iraq, and which gave birth during the year to different opportunities to meet, the most important of which was the Congress "Catholics and Shiites in dialogue on the responsibility of believers in a pluralistic world for peace" held in Rome on last 24 March.