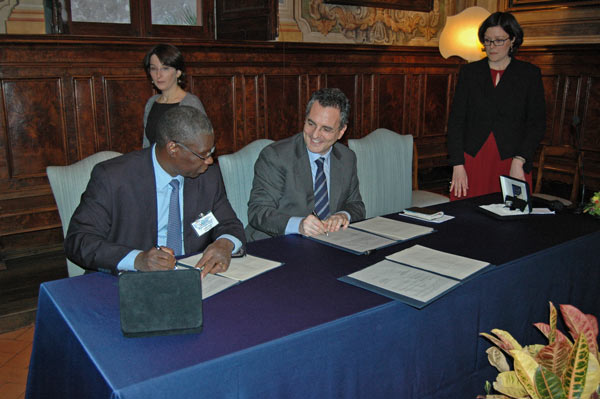 Today at 3pm at Sant'Egidio the Minister of Justice and Promotion of Human Rights of Burkina Faso, Mr Jerôme Traore, and the President of the Community of Sant'Egidio, Prof. Marco Impagliazzo, signed an agreement to implement the activities of the BRAVO! birth registration programme in the civil registers of the country.
The agreement is part of a common commitment to reinforce the civil registration system.

After the universal and free campaign of birth registration, a joint project of Burkina Faso and the Community of Sant'Egidio which has enabled the civil registration of 3 million people in 2010, today Burkina Faso faces the challenge to set up a permanent birth registration system. The Community continues to assist the Country in this delicate stage. Recently a course for civil officers was successfully completed. GO TO THE NEWS.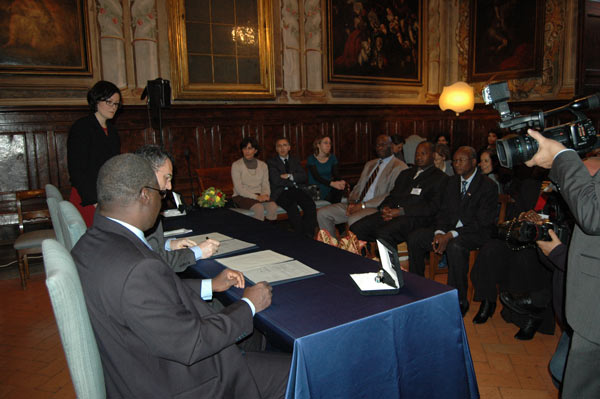 The agreement was signed at Sant'Egidio, which is "a house for Africa" – said President Impagliazzo – and it expresses the "perfect understanding" between Burkina Faso and the Community of Sant'Egidio, stated Minister Traore.

The agreement shows also the will to continue to collaborate for the creation of an efficient civil registration system. Such a system is crucial for the development of a new, inclusive society where everybody is integrated, particularly the weakest, guaranteeing the fundamental human rights of every new born generation, while avoiding that new "invisible" citizens are born without any legal identity.